In yesterday's recap, part 1, I talked about the things I did during WorldCon. Today's post may interest no one but myself, yet since I found WorldCon to be profoundly moving on several levels as an experience, I still want to talk about that aspect as well. In many ways, for me, ChiCon 7 fell somewhere between a coming of age and a family reunion. It was a business trip, too, yes, but felt instead more like a gathering of family and old friends, reunited to celebrate their commonalities and enjoy their common passions, and, in my view, that's exactly what a good con should be.

Part of this was the result of having peers who are up and coming alongside me or just a step ahead nominated for Hugos. It's hard to measure who's at what level, I suppose, and these are people with whom I have struck up close friendships. But watching guys like John DeNardo and Brad R. Torgersen and Patrick Hester be nominated for awards was personally moving. Regardless of that fact that one won and two lost, it was like an endorsement that our generation is welcome to the party, and I shared a sense of pride with them and achievement in that, though I had little to with Brad and Patrick's work (I do regularly contribute to SFSignal).
Another part was having writers whose names I recognized but whom I'd never interacted with telling me they recognized my name and knew of my chat, etc. It was affirming to know that I'm more established than I realized and the respect given made me feel like I'd transitioned to one of the gang rather than a fandboy/wannabe/outside looking over the windowsill. Oh sure, standing next to Robert J. Sawyer and Robert Silverberg and such was a bit fanboy-inducing and probably always will be. Both have suggested I call them by their first names now and my internal voice keeps saying: "I don't know if I can." But they were both incredibly friendly and kind and it's an honor to count them peers and friends.
It was also really exciting to be treated as an equal on panels with the likes of Charles Stross, Jay Lake, and Nancy Kress. For newcomers Lissa Price and myself, it could have been intimidating to share a panel with them, but I was assigned to moderate and all three treated me as if I were an equal. Nancy and Jay even went out of their way to compliment my efforts, which was quite kind. Full disclosure, Jay and I had lunch before the panel and have struck up a friendship over several years despite this being our first face-to-face encounter. And I have bought a story tentatively from Nancy for an anthology. But the next panel with Kay Kenyon and Carol Berg went much the same. And it was a feeling extended throughout encounters with

numerous luminaries in the field.
There's a voice inside most authors, I think, that constantly suggest we're not good enough, not worthy. That calling ourselves an author alongside those greats we admire is far too presumptuous, perhaps, or that we have to earn our way a bit more first. For me, while I consider humility both healthy, advisable and a sign of maturity, it still is nice to feel accepted as a peer by such people. And it's an honor I hope to live up to so they never come to regret it, if that makes any sense. It felt like I came of age from fan/wannabe to full on member of the club, as a result, and that was emotionally rewarding after some very hard months and years on a personal and professional level.
I was also honored and quite pleased when artist and ASFA president Mitchell Bentley won one of eight Judge's Choice Awards at the World Con Art Show from judges including Irene Gallo for his cover of "Rivalry On A Sky Course," my Davi Rhii prequel story. I commissioned it on a very thin budget and gave him a percentage of books sold in  exchange. He'd done beautiful covers for the books, and I wanted to maintain the look of the series. Plus, I enjoy collaborating with Mitch a lot. I am so pleased for him at the recognition for his fine work and,

on top of that, for the fact that the Judges recognized its quality and the Con Chair bought the piece, rewarding him in yet another way. Congrats to Mitch! And gratitude!
Were there disappointments at WorldCon? Being ignored by a couple of people I once called friends for some unknown offense was a bit offputting, yes. So was missing connections with some people I really wanted to meet and never seem to encounter at Cons. The Hugo after parties shutting out of friends from the celebration annoyed me. And there were some lines and priceyness issues from time to time. I also wish my book sales had been a bit better. Three books out of 60 was a smaller ratio than I would have liked.

But those complaints are overshadowed by the magic I experienced with all the wonderful people I met. Truly it was like Schmidt Family Reunions we hold every three years that I've attended in that past. Meeting online friends like Jamie Todd Rubin, Howard Andrew Jones, James Enge, Madison Woods, Tim Ward, Brad Torgersen, Annie Bellett, Jay Lake, Cat Rambo, Barb Galler-Smith, Matt Forbeck and more for the first time and reuniting with old friends I hadn't seen in a while like Saladin Ahmed, Mike Resnick, John O'Neill, Chris Kastenschmidt, and more. Add to that meeting so many past #sffwrtcht guests, including luminaries like Silverberg and Sawyer, and it was a really good experience for networking and family building. Howard Andrew Jones and I commiserated tonight on FB about how much we'd bonded with people online, making face-to-face encounters rather natural and not awkward. It's amazing what social media has created for networking and relationship building.
And then I arrived home riding the waves of these emotions and highs and found these waiting for me:
Yeah, I know, "you got mail"– big deal, right? BUT the Locus contains a mention and my name's on the cover of Talisman. Because Locus mentions my new book, The Returning, and my 3rd short story ever, written in 2009-10 then revised and sold in 2011, finally made it to print in Tales Of The Talisman, becoming my first print magazine appearance as a fiction author. It also is my first illustrated short story, not counting the cover for "Rivalry On A Sky Course's" ebook, of course. "LaMigra's" alien monster comes to life. Based on my time in El Paso, it's the story of a culture clash that happens when two Mexican illegals get taken by aliens they mistake for Border Patrol.  As each side reacts differently than expected, it's a fun examination of setting and culture on the border. But I'm biased as the writer, of course.
It's a good feeling to achieve yet two more successes on the heels of a great Con. How was your World Con?
---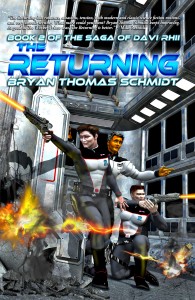 Bryan Thomas Schmidt is an author and editor of adult and children's speculative fiction. His debut novel, The Worker Prince(2011) received Honorable Mention on Barnes & Noble Book Club's Year's Best Science Fiction Releases for 2011. A sequel The Returning followed in 2012 and The Exodus will appear in 2013, completing the space opera Saga Of Davi Rhii. His first children's books, 102 More Hilarious Dinosaur Books For Kids (ebook only) and Abraham Lincoln: Dinosaur Hunter- Lost In A Land Of Legends (forthcoming) appeared from Delabarre Publishing in 2012.  His short stories have appeared in magazines, anthologies and online. He edited the anthology Space Battles: Full Throttle Space Tales #6 (2012) and is working on World Encounters and Space & Shadows: SpecNoir with coeditor John Helfers, both forthcoming. Beyond The Sun and Spec Sports anthologies are also in the works. He hosts #sffwrtcht (Science Fiction & Fantasy Writer's Chat) Wednesdays at 9 pm ET on Twitter and is an affiliate member of the SFWA.