Bio:
Bryan Thomas Schmidt is an author and Hugo-nominated editor of adult and children's speculative fiction. His debut novel, The Worker Prince received Honorable Mention on Barnes & Noble Book Club's Year's Best Science Fiction Releases. His short stories have appeared in magazines, anthologies and online and include entries in The X-Files, Pedator, and Decipher's WARS, amongst others. As book editor for Kevin J. Anderson and Rebecca Moesta's WordFire Press he has edited books by such luminaries as Alan Dean Foster, Tracy Hickman, Frank Herbert, Mike Resnick, Jean Rabe and more. He was also the first editor on Andy Weir's bestseller The Martian. His anthologies as editor include Shattered Shields with co-editor Jennifer Brozek, Mission: Tomorrow, Galactic Games and Little Green Men–Attack! (forthcoming) all for Baen, Space Battles: Full Throttle Space Tales #6, Beyond The Sun and Raygun Chronicles: Space Opera For a New Age. He is also coediting anthologies with Larry Correia and Jonathan Maberry set in their New York Times Bestselling Monster Hunter and Joe Ledger universes.

Twitter: @BryanThomasS
Official Facebook
Goodreads
Instagram
Threes (& a few extras cause I hate rules):
knockoff breitling authorized
knockoff montblanc Replicas
knockoff waf2110.ba0806
replica Rolex Jubilee Datejust Watches
replicas Link Watch
replicas Philippe Patek
THREE NAMES I GO BY
Bryan Thomas
Bry
Well, there is a third, but my twin sister calls me that and frankly, this blog is family friendly so I'll keep it to myself.
THREE JOBS I'VE HAD IN MY LIFE
Church musician
Technical Writer
Production Assistant
THREE PLACES I'VE LIVED
Salina, Kansas
Saint Louis, Missouri
Los Angeles, California
THREE TV SHOWS I WATCH
New Girl
Merlin
Parenthood
THREE OF MY FAVORITE FOODS
Steak (especially Picanha, a unique cut I get only in Brazil)
Enchiladas (my go to food to rate a new Mexican restaurant)
Oreos (don't tell Sandra Wickham or my Mom, they'll kill me!)
THREE FAVORITE DRINKS
Strawberry Margaritas (and I make killer ones, too!)
Chocolate milk
Cherry Limeade
[Sadly I am not allowed to eat any of the six much because due to health reasons.I want a long career and a long life, so sacrifices must be made.]
THREE FAVORITE BANDS (I have a lot more than three!!!)
Kansas (for more than just its name being my home state)
John Denver
B.J. Thomas
THREE FAVORITE THINGS TO DO
Jam with my guitar or keyboard/write songs/produce
Write
Social Media (I love my online friends and my time with them)
THREE THINGS I HATE
People With No Respect For Anyone Different Than Them
Popping Balloons
Dishonesty (Especially if you're dishonest with yourself)
People Who Don't Buy My Books (What? Ok it's four, but I have to eat…)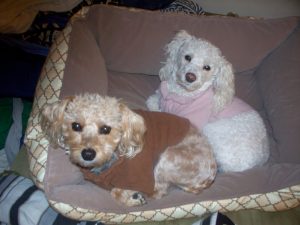 THINGS I CAN'T LIVE WITHOUT
My imagination
Music
Food and water are kind of a must too
Books
My babies (dogs)


This work is licensed under a Creative Commons Attribution-ShareAlike 4.0 International License