Welcome to the Official Website of Hugo-nominated Editor and Author Bryan Thomas Schmidt. We're so glad you're here! A critically praised writer and Hugo-nominated editor of speculative fiction and nonfiction, Bryan also has experience as a technical writer, musician and composer. His work has been published in a variety of places from online 'zines to magazines and newspapers and even a few corporate manuals.
His books and anthologies have been released by Baen Books, St. Martin's Press, Fairwood Press, Titan Books, WordFire Press, and more. Novels Bryan has edited included The Martian by New York Times Bestseller Andy Weir (Crown, 2014), My Big Fat Demonslayer Wedding by New York Times Bestseller Angie Fox (self-pubbed 2014), Oshenerth by New York Times Bestseller Alan Dean Foster (WordFire Press 2015), City of Angels and Jupiter Game by New York Times Bestseller Todd J. McCaffrey (WordFire Press 2016/forthcoming), and A Game Of Authors by Frank Herbert (Wordfire Press, 2013), amongst others.
Bryan has also edited or written gaming content for Wars (Decipher Inc/Grain Quest Press), Dark Expanse (Deorc), and Ascension (Stoneblade) as well as writing tie-in fiction in The X-Files, Predator, and DECIPHER'S Wars.
Find out more on the pages that follow. Thanks for visiting!
Newest Releases: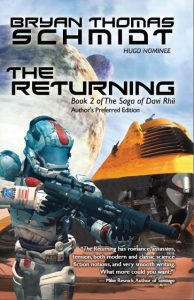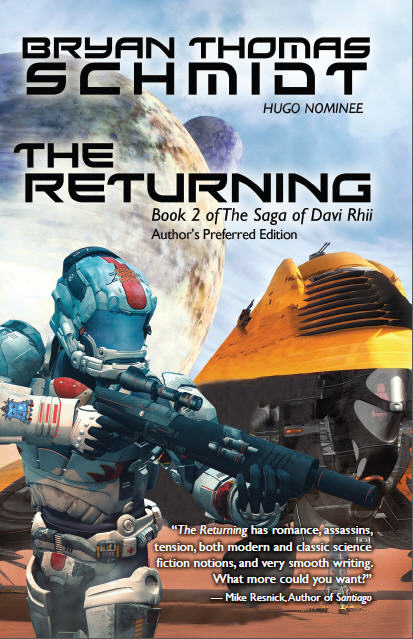 Hugo-nominated editor Bryan Thomas Schmidt won Honorable Mention on Barnes and Noble.com's Year's Best Science Fiction Releases alongside books by Ben Bova, Robert J. Sawyer, Jack Campbell, Ernest Cline and more with his debut novel, The Worker Prince, which more effectively captures the feel of the original Star Wars than any other recent series. In 2015, WordFire Press released a revised and expanded Author's Definitive Edition of that book. Now, Schmidt returns to the Saga of Davi Rhii with an revised, expanded book 2, The Returning: Author's Definitive Edition. Davi Rhii helped his enslaved people fight for their freedom and earn equality, but now that they are equal, they've found freedom and acceptance don't necessarily go hand-in-hand. When assassins begin killing and terrorizing Vertullians, even Davi's family and friends, they face a renewal of old enmity all over again. Davi, Farien and Yao reunite to investigate the murders, finding their lives and friendships threatened by what they discover. Meanwhile, , while Xalivar back seeking revenge on Davi and all those who defied him, the new High Lord Councilor, Tarkanius, Lord Aron, and Davi find themselves fighting all over again to preserve the unity of the Borali Alliance, while even many of their allies and friends work against them to tear it apart. Suddenly, the future of the entire system as at stake, unless they can find those responsible and bring them to justice.
To order from Amazon, click here:

To order from Barnes and Noble, click here: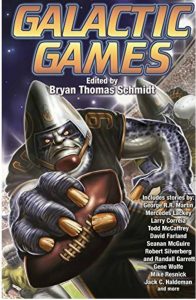 TOP AUTHORS, including 8 New York Times best-selling authors, imagine sports in intergalactic, Olympic-like competitions of the future. George R.R. Martin, Larry Correia, Mercedes Lackey, Gene Wolfe, Robert Silverberg, Mike Resnick, Seanan McGuire, David Farland and many more. Eighteen stories, eighteen different sports, many never written about in science fiction before.
FUTURE SPORTS!
The Olympic Games—pushing skills, minds, brains and bodies to their limits in the ultimate competition on Earth. But once mankind has reached the stars, playing sports will travel with us. Yet galactic sports come with new challenges and possibilities. And new dangers.
From downhill figure skating to horse racing with alien life forms; from baseball played with speedboats to basketball on Mars and golf on the Moon; from alien opponents to literally death defying stakes, Galactic Games takes the competition to a whole new level. Includes stories by top selling authors George R.R. Martin, Mercedes Lackey, Larry Correia, Todd McCaffrey, David Farland, and Seanan McGuire as well as legends Robert Silverberg, Randall Garrett, Gene Wolfe, Mike Resnick, Jack C. Haldeman, and more.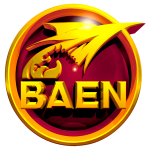 To see the publisher's page on this book, view sample chapters, click this icon.
To order from Amazon, click here:

To order from Barnes and Noble, click here: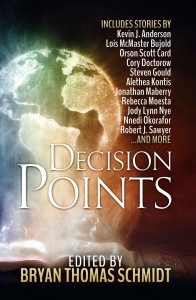 Life is full of decision points—those key moments when what we decide can change everything for better or for worse. These 20 tales describe such instances in young people's lives, ranging from tragic to triumphant, from horror to fantasy to science fiction. Written by authors new and old, those known for Young Adult writing and those known for Adult novels, a few new and barely known at all, these stories will make you think, make you laugh, make you feel angry, sad, determined, etc. as you examine choices and consequences and consider the many paths a life might take and think about your own. Edited by Hugo-nominated editor Bryan Thomas Schmidt, Decision Points includes both brand new and reprint stories by award winners and bestsellers such as Orson Scott Card, Lois McMaster Bujold, Robert Silverberg, Robert J. Sawyer, Kevin J. Anderson, Jody Lynn Nye, Cory Doctorow, Alethea Kontis, Jonathan Maberry, Nnedi Okorafor, Steven Gould, Mike Resnick and more. Top authors telling great stories about life changing decisions that may well change yours.
"A strong, well-written, fascinating selection–this was the most solid-in-quality anthology I've ever read!" – Tamora Pierce, NYT Bestselling Author, "The Song of The Lioness," "Circle of Magic"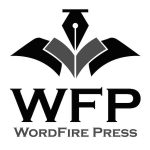 To see the publisher's page on this book, click this icon.
To order from Amazon, click here:

To order from Barnes and Noble, click here: