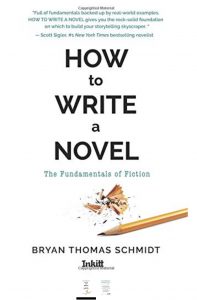 Author: Bryan Thomas Schmidt
Released: March 2019
Publisher: Inkitt
ISBN: 9781731376978
Buy: Amazon • Kindle• Goodreads Smashwords
From the first editor of Andy Weir's International bestselling phenomenon The Martian, How To Write A Novel will take you step-by-step through the process of writing your novel from idea to edit. It offers interviews and sidebars from bestselling authors Steven Savile, Tanya Fenske, Jonathan Maberry, Gini Koch, Peter J. Wacks, and Claire Ashgrove, as well as a plethora of examples from every genre imaginable and extensive charts, diagrams, and illustrations. As #1 New York Times bestselling author Scott Sigler puts it: "How To Write A Novel is a bootcamp on how to go from 'aspiring' author to 'novelist', a comprehensive toolkit for writing your novel—start here, you can thank me later." Your dream of writing a novel starts and ends here, as you make it happen.
Praise
"Full of fundamentals, backed up by real-world examples, HOW TO WRITE A NOVEL gives you the rock solid foundation on which to build your storytelling skyscraper." —Scott Sigler, #1 New York Times bestselling author (Alive, Infected, Galactic Football League)
As a bonus, Inkitt produced 10 short videos excerpted from chapters of How To Write a Novel and they are available free online. Just click here and get a jump start with these professionally produced videos. The teaser is embedded below: