All too often in worldbuilding, it's easy to believe that the bigger you get, the more realistic your world will be, but, at the same time, the bigger the world, the more complicated it becomes for the writer. So I am always looking for ways to simplify that process by making the most of elements I create for multi-purposes. And one of those involves utilizing bit characters to add depth to my world.
Think about your day-to-day life. You have family. You have a circle of friends. You have coworkers and associates. You have workers at places you regularly patronize like the grocery store. This is your world, in a sense, at least the immediate part of it with which you regularly interact. And it's like that for pretty much everyone I've met all over the world from the U.S. to Africa, Brazil, Mexico and beyond. So when writing a book and creating a world, it's helpful to consider the immediate, day-to-day world of your characters and to think about who inhabits it.
I have very few throwaway characters. There are always some, most unnamed or referred to simply by their occupation "guard," "paperboy," "knight," etc. They are created for various reasons: to add atmosphere, for a brief scene where the protagonist or antagonists seeks something for their larger quest, or for other reasons. They appear, say a few lines, then disappear, forgotten. And sometimes, particularly in epic fantasies where the stories frequently involve travel and long distance journeys, it makes sense. But other times, when characters are moving around within a particular world again and again, these characters can be utilized to add greater depth and reality to your world by becoming part of the day-to-day circles of characters, to add a sense of community and realness.
If you look at any group, there are people who show up again and again in particular locations. Those are the people who can add texture and richness to your story if you use them well. Usually they refer to the protagonist and each other by nicknames or first names. They are close contacts, see. People who are used to each other and know each other well, even if they don't get along. They interact so often that it's just naturally developed and, as such, they tend to have a level of intimacy in how they refer to each other. These types of characters can add great meaning to your story and be created for that purpose, but you can also find them in characters you've written as throwaways.
For example, when I am looking for a character for a new situation, I always think through whom I have already created that can be pulled in. In The Worker Prince, I created a Major to take Davi Rhii on a tour of his first planetary military assignment. Later, I decided to utilize this character to work with Davi's rival Bordox in tracking him down. By the end of the book, the character also led forces against the attacking army Davi led. Because this character inhabited the same circles as my protagonist (Davi) and antagonist (Bordox), having him recur added a sense of the circles they inhabit and how they interconnect, which just makes the world seem more real.
In writing the sequel, The Returning, I found myself in need of characters to accomplish various things. A throwaway member of the Borali Council, Lord Qai, then was given a major role. And Major Zylo wound up coming back as an interrogator and conspirator to great advantage for readers. One advantage of using such characters over and over is that you don't have to build them from scratch in their history and their personality. That adds emotional depth to their interactions with your main characters because of things we've already read elsewhere in the stories, and, again, emphasizes the circles our leads inhabit in this world, making the world feel much more like the world we ourselves inhabit.
Screenwriters and movie directors have learned this trick. For many years, while I was in film school I'd count the cast list at the end of films and find that invariably, 33 characters was a common number. Looking at the number of one shot characters, it usually numbered 10 or less out of the 33. The rest tended to appear in multiple scenes, even if they only spoke a line or two each time. Why? because filmmakers know that people interact with a common circle every day and by including that circle, their story becomes more real and pops off the screen, even when viewers don't notice all the details. Subconsciously, they grasp it and that behind-the-scenes experience, informs their opinions of the story and their involvement with it and ability to accept it as "realistic."
So every time I create a character, I think about the characters I've already created who are still available to return. Can one of them be used instead of a new character? How can I add depth to that one-off character in both scenes by combining the two? Automatically, if the character occurs in different situations, it's not only creating a sense of every day circle, as mentioned, but building a deeper character despite the small part they play, because you are showing another aspect of who they are in a way that makes them not just the flower shop girl, but also a neighbor, or a fellow parent, etc. There are all sorts of possibilities.
How much thought do you put into these types of characters? Do you just create them when you need them and forget about them? Or do you find ways to utilize them well and make a more memorable, powerful story? Remember the throwaway art gallery employee Serge in Beverly Hills Cop? Bronson Pinchot turned a bit part into a series regular, and the filmmakers found other scenes to utilize him in, not just at the gallery, but elsewhere. He was so popular that he returned in the film's sequels. This is the same kind of thing that you can do in your novel and readers will enjoy it just as much. Especially if a character is well drawn and memorable. They may start as the stereotypical smart mouthed butcher and evolve into so much more.  If your protagonist walks past the same market again and again, why not have that passerby character be the storekeeper he interacted with before? It saves you the need to introduce and describe a new character and also accomplishes so much more.
Consider your current project. Are there characters you could utilize in this way to make the world bigger and the story more interesting and real? How do you handle these bit-part characters? How has it enriched your worldbuilding and storytelling? I'd love to hear your thoughts and ideas in comments.
For what it's worth…
---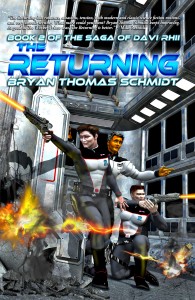 Bryan Thomas Schmidt is the author of the space opera novels The Worker Prince, a Barnes & Noble Book Clubs Year's Best SF Releases of 2011  Honorable Mention, andThe Returning, the collection The North Star Serial, Part 1, and several short stories featured  in anthologies and magazines.  He edited the anthology Space Battles: Full Throttle Space Tales #6 for Flying Pen Press, headlined by Mike Resnick. As a freelance editor, he's edited novels and nonfiction.  He's also the host of Science Fiction and Fantasy Writer's Chat every Wednesday at 9 pm EST on Twitter under the hashtag #sffwrtcht. A frequent contributor to Adventures In SF Publishing, Grasping For The Wind and SFSignal, he can be found online as @BryanThomasS on Twitter or via his website. Bryan is an affiliate member of the SFWA.