This is hard because I hate to potentially embarrass someone. But I was pretty shocked by this approach and really felt it worthy of blogging about so I am taking that risk. I am paraphrasing things as much as I can and, since it was done through a website and anonymous, I am not revealing a name or project title. But nonetheless, this is worthy of a Write Tip, it really is. Now there are many things you shouldn't say to editors which won't be covered. This post refers to a specific situation and scenario, but I hope you'll see why I thought this warning was important to give.Recently, at the recommendations of friends, I have sought out freelance sites to promote my editing and drum up business. I've got enough experience now and recommendations to really make that worth my while but not enough incoming business just from reputation to keep my busy or keep food on the table. So I posted an add that read like this:
I will offer 30 minutes of professional editing on your novel, book, short story or blog for $5
Here's a paraphrase of  the response I got:
Hi,  I have done the opening 500 words of a novella. Would you be interested in reading, editing, criticizing, providing ideas etc. Feel free to comment or add ideas. I won't care if it grows from 500 to 1000 words.  
First of all,  the client means well. He's just unaware of the right approach and what editors really do. So here's the problem: 500 words is flash fiction but if you want an editor to help you with a longer piece, it's probably not ready to be edited. If you're looking for an assessment of craft, maybe it'll work, maybe not. It's not much to go on for a longer piece because it's just a snippet. You need to write more. Plus, asking me to provide ideas sent up read flags. I am offering editing, not cowriting or ghostwriting by to give the person benefit of the doubt, my response was basically:
Sure. But 500 words is not very far in to be doing much good for you because the story likely has yet to take shape fully. I can certainly comment on the beginning and how it works, etc. but I'm not sure how useful it would be.
There were some minor exchanges between but then I got this (again paraphrased here):
I think your input at an early stage would actually be very useful. At an early stage bad habits that set in can ruin the book. And without early comment one can have nagging doubts and uncertainties that will not only plague the author but lead to a despondency and lack of confidence and finally failure and surrender…. another unfinished novel. Thus, your early action is imperative.
I did end up doing the edit, and I gave as close to 30 minutes worth as I could. $5 is well below my usual rate but as  a try out, it's fine, and since this is my first bid on this site, I didn't want to turn work down and risk a bad rating or something. But the attitude really doesn't sit well with me. Here's why:
First, an editor's job is not generally-speaking to provide ideas on your unfinished work. Oh they can help you shape a book already written but not on something that's incomplete. Especially not something that's one page. What you're looking for is someone to tell you what to write, and, frankly, that's not the editor's job nor am I going to risk working with someone I don't know or giving away ideas. That's something for which I should get paid, and probably a much higher rate than the standard editing fee. There would contracts and all kinds of negotiations and I'd have to know you better and really like the piece to agree.
Second, one page can reveal bad habits, yes, but it's not a good assessment of your overall ability. It may tell a slush reader or editor that your work is not professional enough or interesting enough for their zine or anthology, but it's not enough to determine your overall skills. Perhaps you're just bad at openings. Perhaps this idea just didn't work. Perhaps the reader just has different needs or desires. There are a lot of factors, but truthfully, one page is not a whole lot to go on. In this case, the writing was fairly strong in many ways but the polish was definitely not there and I made suggestions above active vs. passive voice, etc. It's not ready for prime time, but the person shows potential.  I could see it turning into something decent with time and effort.
But when edited it, beyond typos, verbage, punctuation, tenses, and a few observations, I did not offer ideas. It's just not what I'm there for. It's your vision, your piece and your decision. All my input could do is muddy the waters and risk changing the story into something you never intended or might not write well, because it's from me not you, and, since I'm not going to write it, how does that help you? What's in it for me? At $5, nothing. Realistically.
The third issue with this: you are basically telling me you don't know how to finish or what to do, and you are suggesting that I fix that. Again, that's not what I'm there for, and it also, frankly, leaves me with the impression that despite your claims that by proving myself for $5 we can establish a future relationship, you are not a good basket into which to put my eggs, because if you never finish a story, when will there be anything to edit? It's  not that I object to one-off clients, mind you, but I'd really like to establish a client base that keeps coming back and, thus, someone who doesn't demonstrate the ability to finish stories is not someone I can count on to come back for more.
So basically, I'm doing him a favor and taking a risk to preserve my relationship and reputation via the site,  but not for any real benefit to me. It's not something I would do a lot. Maybe not again. Because it's not something that's likely to bear fruit with steady work.  So, frankly, even if this is the position you're in, revealing it is not the wisest course for the reasons stated. Someone else might just say "no" and never look back and you may well have left a permanent bad impression. In this case, it's anonymous over the internet, but what if it wasn't?
In 30 minutes, I could have edited the first 3-10 pages of a novel, perhaps a whole short story, depending on length, etc. So what really happened here was my doing something that probably won't pay off long term and may well not serve the client well for an overall evaluation. Neither the client nor I got the full benefit of the offer: I will offer 30 minutes of professional editing on your novel, book, short story or blog for $5. Unless, of course, this blog post goes postal and many of you buy my books. Which would be really coolness, let me say, but I'm not putting my eggs all in that basket either. For what it's worth…
---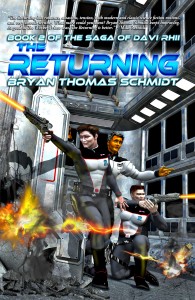 Bryan Thomas Schmidt is the author of the space opera novels The Worker Prince, a Barnes & Noble Book Clubs Year's Best SF Releases of 2011 Honorable Mention, and The Returning, the collection The North Star Serial, Part 1, and several short stories featured  in anthologies and magazines.  He edited the anthology Space Battles: Full Throttle Space Tales #6 for Flying Pen Press, headlined by Mike Resnick. As a freelance editor, he's edited a novels and nonfiction.  He's also the host of Science Fiction and Fantasy Writer's Chat every Wednesday at 9 pm EST on Twitter under the hashtag #sffwrtcht. A frequent contributor to Adventures In SF Publishing, Grasping For The Wind and SFSignal, he can be found online as @BryanThomasS on Twitter or via his website. Bryan is an affiliate member of the SFWA.