It rarely happens. While NetGalley is a goto place now for reviewers and others to get advanced looks at forthcoming books, it's also expensive and thus, dominated primarily by bigger publishers and authors who have the cash to spend on it. Color me surprised when, in July, I was given a special one time opportunity to get my debut novel, The Worker Prince, listed there. While the listing is for around a month only, it's a great chance to have a book named Honorable Mention by Barnes & Noble Book Club's reviewer Paul Goat Allen on his Barnes & Noble Book Clubs Year's Best SF Releases of 2011 out to more reviewers and, thus, more readers.
Within five minutes of the listing going live, we had five requests already. The listing can be found at http://netgalley.com/PopupHandler.php?module=catalog&func=galleyTitleDetails&projectid=19576 and is available in various ebook formats from .mobi and .epub to pdf and palm. Members of NetGalley simply need to search for it by name, click the More Info or Read Now links and then request their copy. It's that simple. And as soon as my publicist sees it, she'll approve it and you'll be allowed to download it and read it.  Of course, we're hoping you love it, but regardless, please review it. Not just at NetGalley but at Amazon, Barnes & Noble, Goodreads and Library Thing.  Why? Not just because I'm asking or out of guilt for  a free copy, but because without reviews, authors and books like me and mine won't survive. The number of reviews increases the number of people who find the book in searches, and also let's them know a lot of people are reading it, giving them some idea of outside perspective on what it's about and whether it's worth their time, and that word of mouth, above all, is what sells books.
So, if you enjoy reading and free books, won't you please consider taking advantage of this unique opportunity? The Worker Prince has been frequently compared to Star Wars: A New Hope. People say it captures the feel of the original Star Wars. It's been compared to pulp and classic old fashioned space operas like Heinlein's Starship Troopers or the Jason January tales. And it's garnered praise from authors like Brenda Cooper, Maurice Broaddus, Mike Resnick, David Lee Summers and more.

Here's the teaser:
What if everything you thought you knew about yourself and the world turned out to be wrong?
For Davi Rhii, Prince of the Boralian people, that nightmare has become a reality. Freshly graduated from the prestigious Borali Military Academy, now he's discovered a secret that calls into question everything he knew about himself. His quest to rediscover himself brings him into conflict with his friends and family, calling into question his cultural values and assumptions, and putting in jeopardy all he's worked for his whole life. One thing's for sure: he's going to have to make decisions that will change his life forever…
It's a space western fantasy, epic space opera with great action, space battles, family drama, political scheming, and a bit of romance. Based in part on the Moses story, but also original and takes off from that story into different directions. It's family friendly and has been enjoyed by 8 year olds and readers in their 70s. It's 326 pages, trade paperback at $14.95. Released October 4, 2011 from Diminished Media.
I think this is an exciting opportunity for us both. I hope you'll agree. And if you like it, book 2 is out, too.
---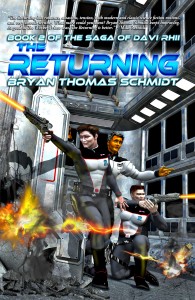 Bryan Thomas Schmidt is the author of the space opera novels The Worker Prince, a Barnes & Noble Book Clubs Year's Best SF Releases of 2011  Honorable Mention, andThe Returning, the collection The North Star Serial, Part 1, and several short stories featured  in anthologies and magazines.  He edited the anthology Space Battles: Full Throttle Space Tales #6 for Flying Pen Press, headlined by Mike Resnick. As a freelance editor, he's edited novels and nonfiction.  He's also the host of Science Fiction and Fantasy Writer's Chat every Wednesday at 9 pm EST on Twitter under the hashtag #sffwrtcht. A frequent contributor to Adventures In SF Publishing, Grasping For The Wind and SFSignal, he can be found online as @BryanThomasS on Twitter or via his website. Bryan is an affiliate member of the SFWA.