Query letters and synopses are the bane of so many authors' existence, aren't they? I dread them and find them quite frustrating. They never seem to elicit the kind of enthusiastic response equal to that I get from my writing itself. It's always disappointing when readers are loving a manuscript but you can't agents or publishers to take a look. Yes, I know it's all about numbers (i.e. percenatages) and finding the right match, but still, it's so much easier when you can let the writing sell itself, but that's not how the industry works.
Now, there's good reason for that. By sheer quantity alone, agents and editors just can't read all the millions of words that people try and put on their desks. A weeding out of wheat from chafe is necessary and there's not a perfect way to do that. So query letters and synopses remain key elements of getting professionally published. I don't see this changing for the foreseeable future either.
That leaves writers with one option: we must learn how to write queries and synopses. So I decided to do a series of Write Tips on related topics as I prepare for my latest round. This first one is going to deal with one of the most important but challenging: writing the short query synopsis for your book. You have to hook them in 100 words and get them to want more. It's really tough to sum up a 130k novel in 100 words. 90k novels, too. But one of the first paragraphs and key paragraphs of any good query, research says, is the synopsis of the book. So, here's the one I am working on for Duneman, book 1 of my epic fantasy trilogy The Dawning Age.
The Terran Lands, ravaged by wars brought on by men of faith and men of magic. As science and reason replace the now outlawed beliefs, a struggle for control of the new technologies and discoveries threatens the peace again. In the midst of this, a man of faith, Kaleb Ryder, awakens in the desert, left for dead, only to be told his wife and child are missing along with his identity and his past. Determined to save his family and recover who he is in the process, Kaleb soon finds that things are not what they seem—from himself to his world and his relationship with the kidnapped woman and child. With the child's fate tied to the peace of the Lands, Kaleb's life is on the line, and he must rescue the woman and child to protect their future and uncover the truth about himself. Duneman, Book 1 Of The Dawning Age, an epic fantasy trilogy.
But before we talk about that, here's where I started and some Facebook comments that helped me get where I am. (And I am still not done.)
In a world transitioning from a war torn age of faith and magic to a peaceful age of science and reason, a man awakens in the desert, left for dead. As he begins piecing back together his identity and his past, he sets out to rescue the kidnapped wife and child who hold the answers he needs. But soon he discovers things are not what they seem—discovering skills he hadn't imagined he had and evidence that the wife and child are not who he thought. Others are hunting them with nefarious goals and the race is on to see who will get there first. With his life on the line and the peace of their world in danger, he must rescue the woman and child to uncover the truths about himself and his past and protect his future.
Duneman, Book 1 Of The Dawning Age, an epic fantasy trilogy by Bryan Thomas Schmidt
Here are comments from my Facebook page a couple of months back when I posted this.
Okay, that gives you a sense of where I started and how it evolved. What are your thoughts? I'd love to hear in comments. Next we'll discuss the rest of the query before we move on to the big synopsis.
---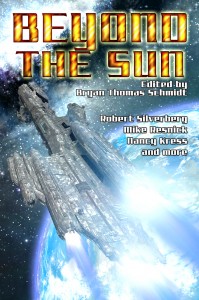 Bryan Thomas Schmidt is an author and editor of adult and children's speculative fiction. His debut novel, 
The Worker Prince
(2011) received 
Honorable Mention on Barnes & Noble Book Club's Year's Best Science Fiction Releases for 2011
. A sequel 
The Returning
 followed in 2012 and 
The Exodus
 will appear in 2013, completing the space opera Saga Of Davi Rhii. His first children's books, 
102 More Hilarious Dinosaur Books For Kids 
(ebook only) and 
Abraham Lincoln: Dinosaur Hunter- Land Of Legends
 (forthcoming) appeared from Delabarre Publishing in 2012.  His short stories have appeared in magazines, anthologies and online. He edited the anthology 
Space Battles: Full Throttle Space Tales #6
 (2012) and is working on 
World Encounters
 and 
Space & Shadows: SpecNoir
 with coeditor John Helfers, both forthcoming. He hosts #sffwrtcht (Science Fiction & Fantasy Writer's Chat) Wednesdays at 9 pm ET on Twitter and is an affiliate member of the SFWA.