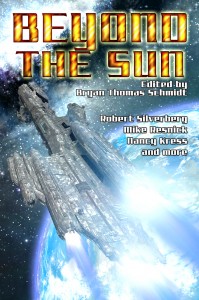 In case you haven't heard, I finalized a deal last week with Patrick Swenson for Fairwood Press to release Beyond The Sun next summer.  Going into their 13th year, Fairwood has released titles by authors such as Nina Kiriki Hoffman, Michael Bishop, Laura Anne Gilman, Daryl Gregory, Jay Lake, Ken Scholes, Jack Skillingstead, Louise Marley, Paul Melko, William F. Nolan, Patrick O'Leary, Ray Vukcevich, Devon Monk, Tom Piccirilli, James Van Pelt, Ken Rand, Alexei Panshin, James C. Glass, Mary Rosenblum, and Bruce Taylor and I'm humbled and honored to join their ranks (as editor at least). Stories from Fairwood publications, which included the semi-pro zine Talebones, have been nominated for major awards. Scheduled for July 16 release, Beyond The Sun should debut at ReaderCon and World Con next year and I have no doubt some of the awesome authors will be in attendance at one or both. So far authors include: Robert Silverberg, Kristine Kathryn Rusch, Mike Resnick, Nancy Kress, Jamie Todd Rubin, Jennifer Brozek, Jason Sanford and Autumn Rachel Dryden. The cover is done by Mitch Bentley, who did the Davi Rhii covers, and Sarah Chorn is assisting me with edits. Expecting some great stories to come in for this now through the January 15 deadline and I'll be posting updates.
In other news, I have signed with Every Day Publishing to edit SAGA: Space Age Golden Adventures from Ray Gun Revival, an anthology collecting the best of stories from the former space opera ezine with new stories by headliners. Signed up so far are Allen Steele, Sarah A. Hoyt, Mike Resnick, Paul S.

Kemp and Robin Wayne Bailey, with more invitations awaiting responses. Doing the cover is artist Writer's Of The Future winner Paul Pederson. The deadline is May 2013, so this one won't be available until Fall 2013. But it's going to be quite fun and thanks to Peter J. Wacks for the perfect title! Every Day Publishing publishes the zine Every Day Fiction as well as Every Day Poets and Flash Fiction Chronicle, anthologies and novels. They are Vancouver, BC Canada based. I'm very pleased to be collaborating with them on this with the support of Ray Gun Revival's founding Overlords.
Beyond that, gearing up for Abraham Lincoln: Dinosaur Hunter "Lost In Legends'" holiday release. This first in what Delabarre Publishing and cocreator Jeff Rutherford and I hope will be a series of chapter books to help get boys excited about reading again is one of my more fun projects this year. Looking forward to starting a second book soon.
Lots of stuff going on. For more projects and a Works In Progress report, click here.
---

Bryan Thomas Schmidt is an author and editor of adult and children's speculative fiction. His debut novel, The Worker Prince(2011) received Honorable Mention on Barnes & Noble Book Club's Year's Best Science Fiction Releases for 2011. A sequel The Returning followed in 2012 and The Exodus will appear in 2013, completing the space opera Saga Of Davi Rhii. His first children's books, 102 More Hilarious Dinosaur Jokes For Kids (ebook only) and Abraham Lincoln: Dinosaur Hunter- Land Of Legends (forthcoming) appeared from Delabarre Publishing in 2012.  His short stories have appeared in magazines, anthologies and online. He edited the anthology Space Battles: Full Throttle Space Tales #6 (2012) and is working on Beyond The Sun for Fairwood Press, headlined by Robert Silverberg, Kristine Kathryn Rusch, Mike Resnick and Nancy Kress, a Ray Gun Revival Best Of Collection for Every Day Publishing and World Encounters and Space & Shadows: SpecNoir with coeditor John Helfers, all forthcoming. He hosts #sffwrtcht (Science Fiction & Fantasy Writer's Chat) Wednesdays at 9 pm ET on Twitter and is an affiliate member of the SFWA.