I did a Write Tip before on Fighting Off Writer's Block in which a lot of published authors offered their advice. But the other day a friend told me she's been stuck forever on her book, and I realized there are some tricks I can suggest as well, so here are my 10 Tips For Getting Past Writer's Block.
1) Identify What Went Wrong. If you're stuck, it's usually because something went astray at some point. You've either tried to push the story where it doesn't want to go or taken a wrong turn that your subconscious can see but your conscious can't and thus are having trouble moving on. It may not be in the previous scene you wrote or even the previous chapter. It may be a little further back, but it's in there somewhere and so the best way to get past it is to identify it.
2) Know Your Plot Points. Whether you write it intentionally or not, Western storytelling tends to be structured around three acts and key plot points. Your first act is your set up and then a major turning point happens that requires action from your characters and propels you into Act Two, the longer middle of your book. A second major turning point happens propelling you toward your conclusion and Act Three. In screenplays, the first turning point is around page 30, and the second page 90. But novels are a little different in page count. Between each major plot point (about every 15 pages in a script) are minor turning points. Also, each storyline will have this same structure, so turning points for subplots may occur in different places as well). The trick is to find these turning points and make sure they are paced correctly and that each propels your story on toward the next, keeping the momentum. If anything pulls it off track by slowing it down, taking it on a detour, etc., that may be why you're blocked and you can fix it. Often times, writers have not formally studied this but do it on instinct, having learned it from their reading, etc. I don't even think about it anymore but just write it. I studied it to death in college though. Yet if you don't realize you're doing it, you need to be aware and finding these plot points can help you get unstuck when you experience a block.
3) Rewrite From Page 1 To Where You Are. This may violate your "that's not how I work" sense of craft, I realize, but truly, going back to reread and then polish from the first page through where you are stuck is a great way to not only identify plot points but find inconsistencies and issues you don't even realize are there. It also gets the whole plotline and all of the arcs fresh in your mind, making it easier to figure out where the story wants/needs to go next. It really works. And often, along the way, whether conscious of it or not, you'll fix that issue which caused the block. In the process, you'll also rediscover your enthusiasm and momentum for writing the story.
4) Outline Your Plot and Character Arcs. I get it. You're a pantser. But your story takes on stucture as you write it regardless. Taking a moment to go through and write out the outline as it now exists on what you've written so far doesn't mean you have to outline the entire book, just what you've got on paper. In the process, you'll find those pesky plot points or realize where they're missing and probably figure out what works and what doesn't to remove that block. It doesn't have to be a lengthy outline. Just identify which scenes go with which plotline and character arc and write a one or two sentence description of events that move it forward.
5) Give Yourself Permission To Write Crap and Write Anyway. Even Robert Silverberg has told me he writes junk from time to time. It's okay. Everybody does it. No one has to see it but you, but if you don't give yourself permission to write, exercising your muscle, releasing your creativity, you might stay stuck. Write anyway. You might actually write past the junk and start producing good stuff again.
6) Skip To The Scene And Come Back Later. Paul S. Kemp doesn't write linearly anyway, which amazes me. K.D. McEntire starts with the ending then goes back. There's lots of ways to do it. I tend to write in chronological order or what I think it will be. But sometimes, a particular scene just isn't coming along, and one way around that is to skip it for scene you can picture more clearly and write that first. In the process, sometimes things will come out that steer you in the right direction for the scene where you're stuck and allow you to write it. It's jogging the muscles a bit, perhaps, but it can definitely work.
7) Work On Something Else To Clear Your Head. Taking a walk, doing dishes, playing with the kids, watching TV, reading—all kinds of activities can be used for this. OR you can switch to another writing project and fiddle with that until your head clears. Often the worst thing you can do is to sit there and stress out, trying to force it. Release the tension, take a break, switch gears and see if the block resolves itself. Often by going off to something else, I find my mind working 0n the story anyway and, in the process, discover how to write the scene which had me stuck. Earlier today I did that and plotted out the scene, came back, and wrote 2000 words in a straight shot. Give it a try.
8 ) Don't Be Dismissive. It happens to most writers from time to time. I've had writers tell me they don't believe in writer's block and I laugh. It's a silly thing to say. Writer's get blocked. We all deal with it differently, but that doesn't mean it doesn't exist. It's like someone who's rarely been sick saying they don't believe in disease. No, you've just been really lucky. Don't insult everyone else. So don't be dismissive. Admit you're blocked. Admit it happens. It doesn't mean your story is crap or that everything you wrote is worthless. It doesn't mean you're a bad writer or won't succeed. It has happened to many writers who are NY Times Bestsellers. They got over it and so will you.  But know this: the way to get through it is not to deny it and do nothing. Like anything else, it takes work. And you may have to try several things to find the right path through.
9) Deal With Life. Sometimes your creative blocks come from external sources rather than within your manuscript. When I wrote The Worker Prince, I wrote 2-6k words a day for four months straight. It was great. Then life fell apart and got stressful with work layoffs, my wife's health issues, marital issues, money issues, etc. From January 2010 to July 2012, I struggled and felt lucky to get 1000 words a day. 12-1500 was a great day. Then July 30th, as I started The Exodus, my third Davi Rhii novel, I started having 2500 word days again regularly. I've had a few 1k days in there but I also had 3k. I've written 57000 words since then. The life issues which affected me were a big part of the problem. The unemployment issue is still a problem but the marital and health issues went away. I found my focus again and it's made a huge difference. Sometimes living life takes priority and you have to surrender to that.
10) Journal It Out. I am not a journal writer myself. Instead, I blog a lot. But I know many writers who've told me that writing it out is a great way to work through these types of issues. Just sitting down and writing about their day, their thoughts, their struggles—anything that comes to mind—can be a huge release for writers. For one, it gets them writing which helps keep the writing muscles and creative muscles in shape but also allows them to clear their minds of pent up junk that might be inadvertently blocking them. For another, it provides a way to emotionally release stress and feelings that they've been carrying around, which might also be part of a mental block. You don't have to start a formal journal to journal through troubles like this. You can throw it all away when you're done but just get it out there.
So there you have it, 10 Tips For Getting Past Writer's Block. Not all of them work for everyone because every writer and every block is different. But like any tools, having an arsenal at your disposal gives you options to find a way through that wouldn't be there otherwise. Please let me know how they work for you. And, by all means, if you have other tips, share them in comments so we can all benefit. For what it's worth…
---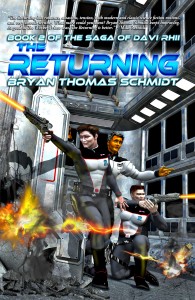 Bryan Thomas Schmidt is an author and editor of adult and children's speculative fiction. His debut novel, The Worker Prince(2011) received Honorable Mention on Barnes & Noble Book Club's Year's Best Science Fiction Releases for 2011. A sequel The Returning followed in 2012 and The Exodus will appear in 2013, completing the space opera Saga Of Davi Rhii. His first children's books, 102 More Hilarious Dinosaur Books For Kids (ebook only) and Abraham Lincoln: Dinosaur Hunter- Lost In A Land Of Legends (forthcoming) appeared from Delabarre Publishing in 2012.  His short stories have appeared in magazines, anthologies and online. He edited the anthology Space Battles: Full Throttle Space Tales #6 (2012) and is working on World Encounters and Space & Shadows: SpecNoir with coeditor John Helfers, both forthcoming. He hosts #sffwrtcht (Science Fiction & Fantasy Writer's Chat) Wednesdays at 9 pm ET on Twitter and is an affiliate member of the SFWA.