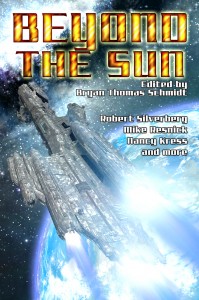 Welcome to the Beyond The Sun Anthology Project. Launched Monday, September 17, 2012 at Kickstarter! It ends Wednesday October 17, and we have some sneak peeks at artwork stories and even one more big name headliner coming if everything goes well! Please join us!
This is a labor of love for myself and a bunch of fellow dreamers, including Robert Silverberg, Mike Resnick, and Nancy Kress, our headliners, along with up and comers like Jason Sanford, Jamie Todd Rubin, Autumn Rachel Dryden and more. Submissions are coming from people like Cat Rambo, Jennifer Brozek, Matthew Cook, Brad R. Torgersen, etc. All the details can be found on this video and at the Kickstarter. The mock cover by artist Mitch Bentley is looking pretty cool, too!
Check back here for regular updates!
Bryan

Beyond The Sun
Edited by Bryan Thomas Schmidt
Assistant Editor: Sarah Chorn
Colonists take to the stars to discover new planets, new sentient beings, and build new lives for themselves and their families. Some travel years to find their destination, while others travel a year or less. Some discover a planet that just might be paradise, while others find nothing but unwelcoming aliens and terrain. It's not just a struggle for territory but a struggle for understanding as cultures clash, disasters occur, danger lurks and lives are at risk.
20 stories of space colonists by both leading and up and coming science fiction writers of today. Mike Resnick revisits the Hugo, Nebula and Homer winning universe of his Africa stories. Grandmaster Robert Silverberg examines Jews who left the contention of a wartorn holyland to settle on their own planet when faced with a dybbuk (spirit) and asking whether aliens can be allowed to convert to Judaism. Autumn Rachel Dryden has colonists threatened by alien animals which burst out of shells on the ground like piranhas ready to feed on flesh. Jason Sanford has Amish colonists on New Amsterdam finding their settlement and way of life threatened by a comet and the English settlers who want to evacuate them. And a new story from Hugo and Nebula-winner Nancy Kress. A fourth big name female headliner has agreed to come aboard when we reach funding.
These and 15 other writers join author-editor Bryan Thomas Schmidt for tales of action, humor, and adventure amongst the stars.
Length: approximately 92,000 words
Publisher: TBD
Estimated Date of Publication: Summer 2013
Like most of my work, this anthology will be family friendly in focus. I want it to be something people of all ages can read, enjoy and discuss. Remember when space exploration filled you with awe? Do you remember sitting around dreaming about what it might be like if you too could go to the stars? That's the sense I'd like to capture with these stories.  I'm deliberately choosing writers with diverse backgrounds, interests and styles with the hopes of getting a diverse selection still united around a common theme.
Authors invited to submit: Hugo and Nebula nominee Brad R. Torgersen, Jean Johnson writing in her Philip K. Dick Award nominated novel universe, Jamie Todd Rubin, Cat Rambo, Jennifer Brozek, Matthew Cook, Erin Hoffman, Jason Sanford, Patrick Hester, Sarah Hendrix, Anthony R. Cardno, Johne Cook, Simon C. Larter, Grace Bridges, Jaleta Clegg, Anna Paradox, Gene Mederos, Dana Bell, Anne-Mhairi Simpson, Selene O'Rourke, Mike Resnick, Nancy Kress, Autumn Rachel Dryden and Robert Silverberg.
About me:
Bryan Thomas Schmidt is an author and editor of adult and children's speculative fiction. His debut novel, The Worker Prince(2011) received Honorable Mention on Barnes & Noble Book Club's Year's Best Science Fiction Releases for 2011. A sequel The Returning followed in 2012 and The Exodus will appear in 2013, completing the space opera Saga Of Davi Rhii. His first children's books, 102 More Hilarious Dinosaur Books For Kids (ebook only) and Abraham Lincoln: Dinosaur Hunter- Lost In A Land Of Legends (forthcoming) appeared from Delabarre Publishing in 2012.  His short stories have appeared in magazines, anthologies and online. He edited the anthology Space Battles: Full Throttle Space Tales #6 (2012) and is working on World Encounters and Space & Shadows: SpecNoir with coeditor John Helfers and developing another project with co-editor Rich Horton, both forthcoming. He hosts #sffwrtcht (Science Fiction & Fantasy Writer's Chat) Wednesdays at 9 pm ET on Twitter and is an affiliate member of the SFWA.