UPDATE: Sad to say I quit this project due to the unprofessionalism and lack of integrity shown by the publisher. I've never looked back. BTS
FOR IMMEDIATE RELEASE

Bram Stoker and Black Quill award nominated editor Maurice Broaddus and editor Bryan Thomas Schmidt are teaming with Steven Saus and Alliteration Ink for Streets Of Shadows,  an urban fantasy crime noir anthology headliner by New York Times Bestselling authors Kristine Kathryn Rusch, Kevin J. Anderson, Glen Cook, Tim Lebbon and Seanan McGuire. Other contributors committed include Alex Bledsoe, Nina Kiriki Hoffman, Diana Pharoah, Adrian Phoenix, and Chuck Wendig.
One of the most popular genres of speculative fiction today, urban fantasy involves stories in urban settings, usually with a dark feel much like crime noir settings, which include fantastical elements. It's similarities make it a natural fit to combine with the long popular crime noir detective story. Streets of Shadow's stories will include stories set in popular universes like Glen Cook's Garrett PI, Alex Bledsoe's Eddie LaCrosse, and Kevin J. Anderson's Dan Shamble, P.I. along with new settings by other authors.

The project will be crowdfunded on Kickstarter in January and release in late Summer 2014 in trade paperback and ebook editions. Open submissions will be accepted for one month after the Kickstarter in March 2014, with stories also due in March from an invited list of top names and up and coming writers.
Maurice Broaddus has written hundreds of short stories, essays, novellas and articles and had fiction published in numerous magazines and anthologies including Asimov's, Cemetery Dance, Apex Magazine, Black Static and Weird Tales. He coedited the Bram Stoker and Black Quill award nominated Dark Faith anthologies for Apex Books, several stories from which were honored with mentions in annual Year's Best anthologies. He also authored the urban fantasy series Knights of Breton Court from Angry Robot Books.
Bryan Thomas Schmidt's first novel, The Worker Prince, received Honorable Mention on Barnes and Noble's Year's Best Science Fiction Releases of 2011. His short fiction has appeared in Tales of The Talisman magazine and anthologies like Triumph Over Tragedy, Wandering Weeds and Of Fur and Fire. His anthologies as editor include Beyond The Sun (Fairwood Press), Raygun  Chronicles: Space Opera For a New Age (Every Day Publishing), and the forthcoming Shattered Shields, coedited with Jennifer Brozek (Baen, 2014) and Gaslamp Terrors coedited by Tim Marquitz (Evil Jester Press, 2014). Three of these have been funded using Kickstarter and picked up by small presses.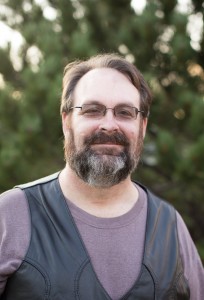 Alliteration Ink is a small press specializing in speculative fiction which has published anthologies  like The Crimson Pact 1-3, Sidekicks, Dangers Untold, from editors like Paul Genesee, Jennifer Brozek and more.
For more information on Maurice Broaddus and Bryan Thomas Schmidt, see their websites at www.mauricebroaddus.com and www. bryanthomasschmidt.net respectively. They can be contacted at [email protected] and [email protected]. Alliteration Ink can  be found via their website at http://alliterationink.com/ and contacted via [email protected].