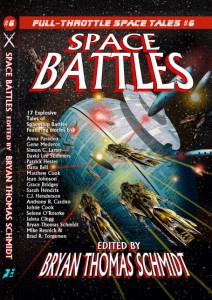 http://www.goodreads.com/review/show/426472373
A new 5-star review for Space Battes: Full Throttle Space Tales 6 from Goodreads:
Eric Townsend
 rated it 

Space Battles is a collection of 17 different short stories centered on, you guessed it, space battles. They each have their own unique way of displaying a battle and include anything from one-on-one gun fights, to dogfights between single ships, to even full scale assaults on battle cruisers. Space Battles has a good mix of female and male characters, and generally speaking the women kick even more tail than their male counterparts, a refreshing thing to see especially in this genre. In Space Battles you will find mixtures of humor, a wide variety of sub-genres such as Space Opera and Military Science Fiction, as well as all the action you can handle and more. You will find sentient spacecrafts and Amish space truckers, that's right I said Amish which are shown in a way you could never imagine! There is a little something in Space Battles for everyone.The character depth is excellent despite the fact that the average length of the stories is about 15 pages or so, quite an achievement when you consider that they have to pack these short stories with as much action as you can handle as well. You have some stories that will make you laugh such as The Thirteens by Gene Mederos where a particular incident involving slippers had me in a fit of giggles. Others will make you appreciate those in the military as admirals valiantly fight to save their ship, and their way of life such as in Like So Much Refuse by Simon C. Larter. Some examine the will to live and the will to die such as in Never Look Back by Grace Bridges. I was hardly able to set the book down as each new story sent adrenaline into my system.
If you enjoy anything in the realm of science fiction this is a book I highly recommend you go out and get. The writing is excellent and if battles themselves are your thing, regardless of genre, than this book will suit your fancy just fine as well. Honestly if you just want some quick reads that are done very well Space Battles is a good choice. The characters do not suffer for the short length of the stories, even in Bait and Switch by Jaleta Clegg which is a mere eight pages! Obviously if you have read this far you can tell I thoroughly enjoyed Space Battles. I really don't have any complaints.