Friends, I need your help!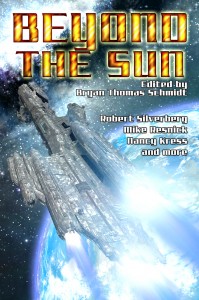 Cause: To Help Fund My Beyond The Sun Anthology Kickstarter. 
Items are books and DVDs from my personal collection. Most are in fairly good condition. New were bought full price and are marked, others are used. Either way, I am selling them at discounted prices. May be places you can find them for less but not and help the cause. Once all are sold, I will give the money to friend or family to back the project since I believe I cannot do so myself. This would be in addition to any pledges they already made.
I have been unemployed Full Time since May 2010. My freelance blogging, editing and writing is bringing in 60% of what I need to live so I just don't have money to back myself. The project will pay me a small editing fee as well which will be enough to pay most of 1 month's rent and quite helpful. So this is my way of trying to contribute what I can to this project's funding. I am sure I will contribute more down the line as I am able.
If you can't support the Kickstarter for various reasons or already have and want a great deal on books, here's a way. I have not bought books except  few exceptions at Cons since Spring. I can't afford it. But I also have too many to store and, in many cases, duplicates, so what better cause could I downsize for that this?
Better than helping me, you're also helping up and coming writers and artists committed to this project to have the opportunity and exposure of appearing in an anthology with award winning stars like Robert Silverberg, Mike Resnick, Nancy Kress and our fourth headliner who will be revealed soon, but I promise she's an exciting addition! So you help a lot more than just me by participating here.
How It Works:  Books Sell As Marked. You email bryan at bryan thomas schmidt dot net (no spaces) and tell me which ones you want, I email back cost of shipping and $1 for packaging. I have boxes and envelopes. I will mail them. Then, you Paypal the money, I mail the books. The money goes to fund this passion project.
For more information, here's the Kickstarter page and the Beyond The Sun info page on this blog is here.
A Fish Called Wanda original DVD release $2
Books

Abnett, Warhammer 40k: First & Only (Guant's Ghosts), pb $2
Abnett, Warhammer 40K: Ghostmaker (Guant's Ghosts 2), pb $1
Anderson, Star Wars: Darksaber, pb $2

Asimov, Foundation and Empire, pb $1

Asimov, Fantastic Voyage, pb $1
Asimov, Foundation, pb $1
Asimov, I Robot, pb $1
Asimov, Second Foundation, pb $1
Asimov, The Robots of Dawn, pb $1Brooks, Sword Of Shannara, brand new pb $3
Brunner, Stand On Zanzibar, pb $1
Brust, Phoenix Guards, brand new tpb $5
Bujold, Diplomatic Immunity, hb $6
Carriger, Heartless, pb $1
Cooper, Reading The Wind, brand new pb $4
Dickson, Necromancer, pb $1
Douglas, A Plague Of Change, pb $1
Dvorkin, Star Trek: The Trellisane Confrontation, pb $1
Foster, Bloodhype, pb $1
Foster, Star Wars: The Approaching Storm, brand new pb $4
Goodkind, Stone of Tears, pb $1
Haldeman, Earthbound, hb $6
Herbert, Dune Messiah, pb $2
 
Jordan, Crown of Swords, pb $1
Jordan, Eye Of The World, pb $1
Jordan, Fires Of Heaven, pb $1
King, The Stand (Expanded), hb $6
Lake, Escapement, pb $2
Lake, Mainspring, pb $2
Lawhead, Merlin, pb $2
Rusch, Duplicate Effort (Retrieval Artist), pb $2
Rusch, Star Wars: A New Rebellion hb (no dust jacket) $3
Sherman & Cragg, Starfist Book III, pb $1
Sherman & Cragg, Starfist Book IV, pb $1
Sherman & Cragg, Starfist Book V, pb $1
Sherman & Cragg, Starfist Book VII, brand new pb $4
Sherman & Cragg, Starfist: Firestorm, pb $2
Sherman & Cragg, Starfist: Wings Of Hell, pb $1
Snodgrass, Edge Of Reason, brand new pb $4
Stirling, Peshawar Lancers, brand new pb $4
Tyers, Star Wars: Truce At Bakura, brand new pb $4
Weeks, Black Prism, pb $1
Wolverton, Star Wars: Courtship Of Princess Leia, pb $1
Zahn, Star Wars: Allegiance, pb $2
 
Zahn, Star Wars: Outbound Flight, brand new pb $4
Zahn, Star Wars: Survivor's Quest, brand new pb $4
Zelazny, Lord Of Light, pb $1
Short Bio:

Bryan Thomas Schmidt is an author and editor of adult and children's speculative fiction. His debut novel, The Worker Prince(2011) received Honorable Mention on Barnes & Noble Book Club's Year's Best Science Fiction Releases for 2011. A sequel The Returning followed in 2012 and The Exodus will appear in 2013, completing the space opera Saga Of Davi Rhii. His first children's books, 102 More Hilarious Dinosaur Books For Kids (ebook only) and Abraham Lincoln: Dinosaur Hunter- Lost In A Land Of Legends (forthcoming) appeared from Delabarre Publishing in 2012.  His short stories have appeared in magazines, anthologies and online. He edited the anthology Space Battles: Full Throttle Space Tales #6 (2012) and is working on the Kickstarter space colonists Anthology Beyond The Sun as well as World Encounters and Space & Shadows: SpecNoir with coeditor John Helfers and another project with Rich Horton, all forthcoming. He hosts #sffwrtcht (Science Fiction & Fantasy Writer's Chat) Wednesdays at 9 pm ET on Twitter and is an affiliate member of the SFWA.