I love this quote from The Guardian: 
The novelist China Miéville said self-censorship was both inevitable and desirable. "There are millions of things we shouldn't say. We self-censor all the time, and a bloody good thing too. Our minds are washing machines full of crap that we pick up over our years on this earth.
"One of the problems [in this debate] is the elision between having the legal right to say something (and I don't trust the state to tell me when I can and can't say something) and having the moral right not to be told off for saying something objectionable.
"This is why the free speech warrior who thinks they have the right to say what they like and then complain when someone complains – that's not censorship. Censorship is when the police come round."
This ties into something I've been saying about social media and Facebook for a while now. I learned a long time ago to use discretion. In part, because as an ADHD person, I tend to be blunt and just blurt things out. But I also have learned that picking one's battles is important. Even the most seemingly innocuous comment these days can be taken out of context and blown into major drama, but comment about politics and religion and forget about it!
For writers, being creative people of passion, it can be hard to exercise this important tool. Discretion can feel like censorship but it really isn't. Discretion, like many rules and laws, is a tool to enable people to live civilly side by side despite their differences. Some people have good judgement, some don't. So some need these tools more than others.
I don't subscribe to the school of "say whatever the hell you want, damn the consequences!" and most authors can't afford to either. For widespread success, at least, one's writings need to cross boundaries, which means appealing to a lot of different people of varied backgrounds, beliefs, cultures and understandings. It's hard to do that if you're constantly throwing out there shocking statements, bold statements, etc. Yes, there are times to rock the boat. There are some issues one pursues with passion because it has to be done. But even then, choosing how you say what you say is an important consideration not to be taken lightly. Few of us have the audience of Stephen King, Orson Scott Card, John Scalzi, Charlaine Harris, etc. Those are authors who can (and sometimes do) get away with saying things most of us could not. But even they exercise discretion, I'm sure.
Let's look at some definitions from www.dictionary.com:
dis·cre·tion
noun
1. the power or right to decide or act according to one's own judgment; freedom of judgment or choice.
2. the quality of being discreet, especially with reference to one's own actions or speech; prudence or decorum.
Compare that with:
cen·sor
5. to ban or cut portions of (a publication, film, letter, etc.)
6. to act as a censor of (behaviour, etc.)
I think it's clear they are not exactly the same thing. One involves a decision to act in a certain way out of wisdom and a desire to be appropriate i.e. prudent. The other is a decision to conceal, ban, etc.
Why is discretion both necessary and valuable for writers? In part, I suppose it depends upon how sensitive you are to negative energy. I find it both very distracting and very discouraging.  So much so that I converted my old, longstanding Facebook profile to an author page and selectively re-added "friends" to a new private profile, organized in groups I can use for sorting my wall when I need to. That may seem extreme but a side advantage of it was to give me a huge author page following right off the bat. If saying whatever you want whenever you want is going to lead you to feel irritated, distracted, depressed, etc., then you should carefully consider discretion as a change of course. At the same time, if watching other people say whatever, whenever is causing you to feel those things, you have to consider the value of "friending" and "following."
For me, I learned my lesson when I was told by a few friends whom I considered real world friends, not just online friends, told me I was too political and open and that it was making them uncomfortable. I started looking at what I was saying and why and realized there were ways to say what I wanted without being as snarky or blunt. I also realized I could choose the best times to comment publicly and leave others for private discussion. So I exercised discretion. The irony is one of the "friends" unfollowed anyway and never made any effort at discretion herself. But you can't control what other people do, only what you do. And, for me, as one who is kindhearted and focuses on helping and encouraging others, I don't think the value of saying those things outweighs the value of having those friends to support and encourage. And so I use more discretion. And I don't feel censored or oppressed because it's my choice.
It's similar to how we often deal with loved ones. If you want to stay married, you have to learn not to just blurt out whatever you're thinking or feeling whenever you want t. You have to learn to control that impulse. The same with raising kids, dealing with siblings, parents, etc. It's necessary to be discreet sometimes in order to live with others. If you aren't, you set yourself up for a ton of distracting drama.
So for writers, I believe discretion is both valuable and powerful. It can be empowering. For one, by using discretion, you allow your voice a larger audience and build up a great opportunity to truly have impact by what you write and say. One of the great tools of writing is letting characters speak for you. Let the characters be outrageous and say those things that you don't. After all, they're just characters. They're fictional. It's a tool used by Aaron Sorkin all the time in his successful movies and TV shows. And he's not alone. Novelists do it, too. And so can the rest of us. There's something far more threatening about a real person voicing something than a character or actor playing a part.
It's valuable to maintain the opportunity and audience to be heard and to sell your work. And it's valuable to use discretion as a part of cultivating that audience. It's not about banning your values or thoughts or ideas. It's not about changing how you think, believe or feel. It's about finding ways to do all of that productively. And productivity is a key to success.
In our modern world, so is discretion.
I welcome your thoughts in comments. For what it's worth…
---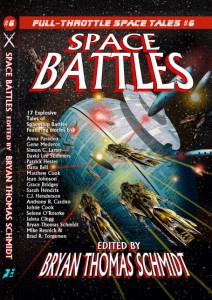 Bryan Thomas Schmidt is an author and editor of adult and children's speculative fiction. His debut novel, 
The Worker Prince
(2011) received 
Honorable Mention on Barnes & Noble Book Club's Year's Best Science Fiction Releases for 2011
. A sequel 
The Returning
 followed in 2012 and 
The Exodus
 will appear in 2013, completing the space opera Saga Of Davi Rhii. His first children's books, 
102 More Hilarious Dinosaur Books For Kids 
(ebook only) and 
Abraham Lincoln: Dinosaur Hunter- Lost In A Land Of Legends
 (forthcoming) appeared from Delabarre Publishing in 2012.  His short stories have appeared in magazines, anthologies and online. He edited the anthology 
Space Battles: Full Throttle Space Tales #6
 (2012) and is working on 
World Encounters
 and 
Space & Shadows: SpecNoir
 with coeditor John Helfers, both forthcoming. He hosts #sffwrtcht (Science Fiction & Fantasy Writer's Chat) Wednesdays at 9 pm ET on Twitter and is an affiliate member of the SFWA.