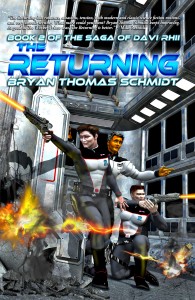 You know, things don't always go the way that we expect them to when publishing a book. This week is one of those times.
I expected the print release of my second novel in the Davi Rhii series, The Returning, to be the real highlight of my week. Those plans have now been pushed back a bit because somehow the book's layout got messed up during the file transfer from my publisher to Lightning Source, our printer and distributor. An attempt was made to quickly correct that but there was not enough time to get it fixed by June 19th for the official release. It appears Barnes & Noble cancelled all pre-orders for print due to this error. The buy links for print copies aren't up on either Amazon or B&N but the ebook version is up and available for your Nook or Kindle. I heartily apologize for this inconvenience.
I really have been excited to see this book released. I worked hard on my end to come up with a story that you'll love. It has a great cover by Mitch Bentley, one of his best ever. It got blurbs from some great people like Mike Resnick, Paul Kemp, and Howard Andrew Jones. The reviews have mostly been great. The official online blog tour started May 29th and will run until mid-July. So much work and so many hands have been involved in the process of bringing this book to you and now technology seems to have gotten in the way. It hiccuped in a big, bad way.
I really want readers to have a shot at this book. But I also want it right. It's important. It matters because you, as a reader, matter. Please know that I want to provide the best quality product possible and am as anxious as anyone to get this out into the world. The print copy should be up and running by Friday, June 29th at the absolute latest. Ebook versions are up now if you enjoy that instead. In the meantime, I have decided to extend the 33% off sale on copies purchased from me here. I appreciate your understanding and patience and your patience shall be rewarded. You will have a good looking, properly produced book. I can promise you that.
As a bonus, copies ordered from me will be signed personally either on the paper copies themselves or via Kindlegraph and can be personalized at your request. In addition, I will send signed bookplates or Kindlegraph signatures to anyone who requests them that buys the books at any other venue as well and this will be done at no charge for buyers of all formats, including Nook.
We appreciate your understanding and patience and look forward to your response to the book very soon.
---

Bryan Thomas Schmidt is the author of the space opera novels The Worker Prince, a Barnes & Noble Book Clubs Year's Best SF Releases of 2011 Honorable Mention, and The Returning, the collection The North Star Serial, Part 1, and has several short stories featured  in anthologies and magazines.  He edited the new anthology Space Battles: Full Throttle Space Tales #6 for Flying Pen Press, headlined by Mike Resnick. His children's book 102 More Hilarious Dinosaur Jokes For Kids from Delabarre Publishing. As  a freelance editor, he's edited a novels and nonfiction.  He's also the host of Science Fiction and Fantasy Writer's Chat every Wednesday at 9 pm EST on Twitter, where he interviews people like Mike Resnick, AC Crispin, Kevin J. Anderson and Kristine Kathryn Rusch. A frequent contributor to Adventures In SF Publishing, Grasping For The Wind and SFSignal, he can be found online as @BryanThomasS on Twitter or via his website. Bryan is an affiliate member of the SFWA.