The following is an excerpt from my book How To Write A Novel: The Fundamentals of Fiction, Chapter 3:
The scene is the basic building block of dramatic structure for any story. If written correctly, each scene leads to another scene and another. According to Jack M. Bickham, in his book Scene & Structure, all well-written scenes use the following pattern:
Introduction and development of conflict

Failure of character to reach his goal or a tactical complication/disaster which creates a new goal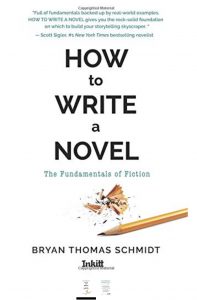 Notice how these parallels the three-act dramatic structure of the entire story. It is not an accident. Scenes have three acts just as the entire story will. Scenes are not static. At their heart lies conflict. One character or group has a goal and others have other goals, and these meets and create obstacles to be overcome. Hence, conflict. Most scenes start with the point-of-view (POV) character walking into a place with a clear goal in mind. (As discussed in Chapter 4 the point-of-view character is the character from whose vantage point a particular scene is told.) Success of the scene dramatically depends upon your ability to interpose obstacles between your hero/heroine and the obtainment of this goal. Sometimes the goal carries over from the previous scene. Sometimes it is the overall goal in the story. Other times, it is a sub-goal required as part of the many steps to reaching the overall story goal. In any case, usually the goal is stated early on either through internal monologue or dialogue of the character.
For example, Luke Skywalker enters the workshop and cleans the droids per Uncle Owen's instructions (goal). In the process, he finds something jammed in a slot on R2-D2 and tries to free it, unleashing the video of Leia pleading for help. When the message is unclear, he asks R2 to play the whole message and R2 refuses by first pretending not to know what he is referring to, then saying that the restraining bolt is preventing it in order to get the bolt taken off (obstacles). The disaster comes as R2-D2 escapes, forcing Luke to chase him down.
To work well and increase dramatic tension, all scenes must end badly. Whatever the goal going in, whatever the action taken, the result must be a failure of some sort. It can be an actual failure, a twisty complication, or additional unexpected tasks, but it constitutes a delay to success regardless.
But there is another key element at play as well. When the character's goal is stated, the reader asks a question.
Goal: To get the golden key to the temple where I can retrieve the sacred scroll.
Reader Question: Will (character) get the key?

Whatever the question, the resolution (or answer) must be a negative. Sometimes a character does the get the key, but other objects are required to find the temple or open the door, and the character must go seek them before getting the scroll. The answer to the question, the disaster, the end of the well-written scene, always creates further complication on the character's journey through that story.
There are several key points to keep in mind when determining goal, conflict, and resolution:
1. The goal of each scene must clearly relate to the larger story question; the question evoked in readers by the stated goal of the character for the major story arc.
2. The conflict must be about the goal.
3. The conflict must be external, not within one's self. Either with an object, animal, or person or more than one.
4. Point of view should be maintained from goal to resolution in the same scene. It is best not to break it up into different points of view to avoid confusion and loss of tension.
5. Disaster always works by pushing the character away from his or her goal.
6. Readers will tolerate much if you keep making things worse and worse in every scene. This is how you build tension and suspense and create a compelling read.
7. Since the end of each scene dictates what will happen after, scenes cannot be written in isolation from the overall arc, goals, conflict, etc. of the story itself if they are to work well.
Plots are made up of a series of interconnected scenes that create a larger story. Since a plot is the storyline arc of the overall book, and the book is a story that is like an argument with a premise, a plot consists of a series of questions asked and answered. What you ask when, and how soon you answer it, affects the tension and pacing of the overall story. Some questions get asked and answered in the same scene or chapter. Some carry over multiple scenes and chapters. Some may carry over to another book. Some carry from chapter 1 to the final chapter. The questions have various levels of stakes to them. More intense, important questions tend to take longer to answer. One great way to figure out if your story makes sense and has good pacing is to go through and identify all the questions asked and answered and when and where they are asked and answered. If you are missing any answers or questions, you have a problem that needs fixing.
Since some stories have several plots—usually an overarching main plot and subplots—and not all scenes relate to each plot, but all relate to the main arc in some way or affect it. All plots and subplots have three acts just like the overall story, so sometimes identifying which plot and subplot(s) relate to each scene is key to making them work and determining in what order the scenes need to occur to best tell the story. To be clear, a subplot is a lesser plot that is less important than the main driving plot and sometimes focuses around a specific character, location, or aspect of that larger plot and points readers back to it.
It is also important to know which characters are in a scene. Too many characters can make a scene confusing. And too few can make it ineffective. Most importantly, the person with the most to lose is usually the best POV character for that particular scene, so keep in mind whether you have multiple POV characters or not. That will determine your character use in each scene. Remember also that individual characters can have conflicting goals, and that can further complicate scenes by creating competing tensions or conflicts that add layers and depth to the scene and further obstacles to the resolution as well.
In Medias Res
The last point I'll make is the number one rule of good dramatic writing I learned in film school: Get into a scene as late as possible in its action, and end the scene as soon as you can after that. The literary term for entering a scene when the action has already begun is in medias res.
Scenes are more dramatic when they start within tense moments of action or conflict, so skip all the slow buildup and setup like greetings and small talk, how the characters got there, etc. which would slow things down, and instead get right into it. Telephone scenes, scenes sitting around a table, on couches, or in a car, etc. have a casual, slow feel that does not lend itself well to drama, so these use sparingly. The pacing and power of your story will go up in spades, and your readers will thank you for it.
Here's another example, one of my favorites: the opening scene from the film Lethal Weapon 2.
The film opens with Riggs yelling and pounding his palms on a dashboard as horns honk and traffic roars. Then he and Murtaugh are arguing about speed and strategy. They are in a car chase. We don't yet know who they are chasing or why, but we are immediately thrust into the center of tense, fast-paced action, and the details will come. We soon learn there are two car chases with two teams of cops, and as they fight traffic and near misses with other vehicles and race to keep up with the fleeing criminals—Murtaugh driving his wife's station wagon, which hardly seems up to the task—the bad guys start shooting and taking more and more chances. The goal is to catch the bad guys. The conflict comes from disagreements between cops and from all the obstacles.
When the bad guys ditch them in airport traffic, Riggs jumps out and continues the chase on foot until Murtaugh untangles the station wagon and catches up. Riggs then insists on driving, and he pushes the car even more to its limits, practically destroying it in the process. So now they are fighting each other as well (more conflict). Then the other chase ends at an intersection, where cars collide and a helicopter comes in to rescue the bad guys with automatic gunfire leading to a shootout with cops (Failure 1). Riggs and Murtaugh, meanwhile, continue their chase until their baddie flips his car over a black-and-white cop car that blocks its path and crashes into a building. By the time Riggs and Murtaugh get to the car, the bad guy is gone (Failure 2), but they find Krugerrands, the currency of South Africa, and so their quest begins.
This is a great example of getting in as late as possible and out as soon as possible (in medias res) while still including all three core building blocks of a great scene.
To download a free copy of How To Write A Novel: The Fundamentals of Fiction, click here.