The seventh story in the anthology by Matthew Cook offers a unique take on the theme, much like Dana Bell's did.  Cook lives and works in central Ohio, in a city known forits mad cows, microbrews, and a sports team named for a poisonous nut of no commercial value. He is the author of the Kirin Widowmaker series (2007's Blood Magic, and 2008's Nights of Sin), as well as several science fiction stories. His debut science fiction story, "The Shoe Factory", was nominated by the British Science Fiction Association for "Year's Best" consideration in 2010, as was his next story, "Insha'Allah" in 2011. His most recent work, "Railriders"—a prequel tale of the Seventeen Systems universe where "The Book of Enoch" is also set—appeared in March of 2012 in Interzone Magazine #239. When not writing about ray guns, alien invasions, or undead apocalypses, Matt works as an online security specialist and Product Manager for a Silicone Valley startup. He blogs (occasionally) at: http://bloodmagicbooks.blogspot.com/, encouraged by his loving wife, Amy, as well as a supporting cast of eternally-patient family and friends.
BTS: How did you find out about the Space Battles anthology and what made you decide to submit?
Matthew Cook: I heard about the anthology through fellow writer Mike Resnick and, after hearing the idea behind the collection, decided to rework an old story of mine for submission.  I was so thrilled to be accepted into a collection featuring so many talented writers!
BTS: This is your first anthology sale, correct? Tell us a little about "The Book Of Enoch." What's it about? Where'd this particular idea come from?
MC: The initial story idea, a civilian space freighter crew-member who has to fend off an alien attack using her ship as an improvised weapon, came from a piece I did several years ago that never really came together and which I never submitted. When I learned about Space Battles, I dusted the old piece off and worked in some ideas I'd been batting around in my head for an Amish space trucker named Enoch. The idea of putting a character sworn by his faith to nonviolence into the middle of a space war was the centerpiece of the story more than the actual battle itself, since it let me show the character's internal struggle alongside the external conflict raging all around him.
BTS: Another story set in this universe came out in Interzone. Which came first and how do they tie together?
MC: "Insha'Allah" appeared in Interzone #235 in July of 2011. Like "The Book of Enoch", it's set in my Seventeen Systems universe, a future world where humanity has spread out through the galaxy and has established many different colonies. Each colony is loosely based on different cultures and religions that exist today.  In "Insha'Allah" (which is set roughly concurrent with "The Book of Enoch"), a world settled primarily by Muslims watches the battle raging at the edge of their world's atmosphere, then zooms in to focus on the life of Shaomi, who is a Washer of the Dead (a woman tasked with preparing bodies for proper Muslim burial).  When another woman, an offworld pilot, is brought to her, badly wounded and desperately in need of medical attention, Shaomi must choose between the dogma of her religion and the core beliefs of her true faith.  Like "The Book of Enoch", matters of faith and hope in the midst of war play a central role, albeit with a different outcome.  Another story of the Seventeen Systems, "Railriders", was published in March of 2012, also in Interzone.
BTS: What's the second story about?
MC: "Railriders" is a prequel story that follows the lives of a band of intergalactic hobos as they move from cargo ship to livestock hauler, evading the agents of the shipping companies, all the while praying that their air isn't cut off by accident (or malice).  It's very much a character story, one intended to show that even in the future, when humanity has accomplished so much and has started truly reaching the stars, for the most underprivileged, some things, unfortunately, never change.
BTS: You've also had a couple of novels published. Please tell us a little about those.

MC: My first novel, the dark fantasy Blood Magic, was published by Juno Books in 2007. A sequel, Nights of Sin, followed in 2008. Both books follow the life of Kirin, a woman who, after the murder of her twin sister, seeks out the power of necromancy to bring back the dead as her unliving champions.  The true tragedy, however, lies in the fact that Kirin thinks that she cannot ever have children, a misconception that leads her to view her terrible zombie-like minions as her "sweetling" children. When Kirin's society is attacked by the Mor, a subterranean race that humans had thought long-defeated, Kirin must use her powers in defense of a society that thinks of her as a monster.  Both books recently went out of print in mass-market paperback but a few copies exist here and there, both in the new and second-hand markets, and a shift to e-book will hopefully see them back in print for Kindle, Nook, and other e-readers soon.  A third book is also outlined and may one day be released…
BTS: You recently got married and went on a honeymoon. Congrats. Did you find the cross cultural experience inspiring creatively? Will those experiences influence your work?  
MC: Definitely.  We honeymooned in Budapest and Prague, and already those cities, with their centuries-old cathedrals and cobbled streets, have begun creeping into my work.  I've already finished the first draft of a novella, tentatively titled "Tej" (the Hungarian word for "Milk"), which can only be described as a "post-apocalyptic zombie story… without the zombies".  It's definitely a strange piece, but then again so are most of them…
BTS: How'd you get started as a writer?
MC: I've told stories for as long as I can remember. My grandfather, Roy Durling, was my first official "fan", and always read my grade-school and jr. high efforts, followed by encouragement to "always keep writing!".  In high school I published a few stories in the school literary magazine, including "On The Bottom" (my first, stumbling attempt at sci-fi).  High school is also where I discovered role-playing games, and for years I fed my storytelling jag with endless hours of Dungeons and Dragons, Vampire: The Masquerade, and a host of others. In college I did a little work for FASA (the game company responsible for Battletech, Shadowrun, and a number of other great games) – just a little fill-in flavor text writing and stuff, but it definitely gave me the desire to tell stories for a living one day. While I still haven't reached that goal (most writers, unfortunately, never do and even authors with many, many published books still usually have to keep their "day jobs" to pay the rent), I feel like I'm getting closer every day.

BTS: Do you have plans to do any more with this universe?
MC: I definitely have more stories to tell in the Seventeen Systems – they are in the middle of an intersteller war with the E'k, after all…
BTS: What other projects do you have in the works that we can look forward to?
MC: I'm currently working on a series of linked novella-length pieces set in the Middle East and Africa of the near-future. It's inspired by the research I've been doing on reach-back and drone technology, artificial limb development, recent advances in cyber security and cyber fraud, and the impact of all these technologies on society.  No publisher yet, but I'm hopeful.  I also am almost finished with the initial draft of a contemporary fantasy novel, tentatively titled "The Circus of Night".  No publisher for either yet, but I'm almost ready to begin my search – wish me luck!
 Here's an excerpt from Matt's tale of Amish truckers in space:
The Book of Enoch
Matthew Cook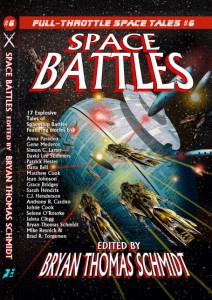 He blinks and his tears drift free, floating in the stale, moist air inside the helmet, saltwater spheres glittering in the starlight. One strikes the faceplate, smears itself flat, blurring the graceless lines of the ship and the pinpoints of diamond-chip stars. Only the black, all around and in-between, the color of deepest mourning, is unchanged.
Enoch can't feel his feet. The cold's gotten into them, thanks to the busted suit-heater coil he's been meaning to fix. Soon he'll need to go back inside and warm up, before the black claims another piece of him. Soon, but not just yet.
At his feet, fixer-bots scurry around the open access cover, tools probing, lights swiveling. They can probably do the job without him, but supervising them gives him a convenient excuse to go outside. To be away from the endless, well-meaning condolences. From bible verse and assurances that they're in a better place, now. With Him.
He shakes his head and peers out through the smeared visor. The Lancaster's not a pretty ship, God knows. Built neither for comfort nor for speed, but for the grueling unglamorous job of hauling cargo between the worlds of the Seventeen Systems. From Enoch's vantage, the ship is a miniature world. A tiny, close-horizoned landscape of ducts and struts overlayed with slabs of pitted radiation shielding. It's not much, but it's all he has.
The lead 'bot, a lime-and-orange HG0-790 that he calls "Hugo", withdraws its armature from the hole, the busted fitting clasped in its claw. Enoch glances up and left at the menu painted in laser light on the inside of the faceplate, opening a comms channel to the bridge. "Got it, Cap," he says. "Can't fix it out here. I'll need to bring it back inside, so's I can fab up a replacement."
"What about the heat exchanger?" Cap asks.
"Backup's'll cover the load for another day," Enoch reassures
him. Cap's competent, and always looks out for them, but sometimes
he's such a hen.
"Whatever's best," the captain replies. "Nice job. First round's on
me tonight."
It's an old joke, not really meant to be funny, almost scandalous,
really, but Cap's like that. Full of little bits and pieces from the life he
lived before his conversion. All Enoch had was six months of misery
during his brief rumspringa, confused and dazzled by the lights and
noise and baffling speed of everything around him as he wandered
through sprawling port cities on Prospero and New Constantinople.
Six months of struggle, leading to that terrible, drunken night. The
alley behind the nameless bar, blood on his hands and police lights in
his eyes. Cages after that, each one worse than the last.
Enoch grunts and closes the channel. He orders the 'bots back
inside and clomps off across the hull, towards the airlock. By the
time the whistle of returning pressure fades, Enoch is ready to face
the crew.
The red vac-warning light cycles to green, automatically releasing
the clamps on his helmet seal. He pulls off the plastic dome and scrubs
at his face with his bandanna, like he's just wiping away good, honest
sweat, obliterating any last trace of his sorrow.
He combs this thin, sandy-blond hair away from his face with
stubby fingers, smoothing it down over the stumps where his ears
once were. That was his first trip out, the time his helmet seal failed
because he'd neglected to check it. He'd almost died, and counted the
loss as a useful reminder to always double-check.
It's not for my vanity, Lord, he thinks, the same way he does every
time. It's for everyone else who has to look at me.
When everything is stowed, he shuffles off, eyes fixed on the deck,
hands clasped over the hard swell of his belly. He does not meet the
eyes of his fellow shipmates, nor speak on the infrequent occasions
when others call his name.
By the time he reaches the machine shop his shoulders and neck
are trembling. Hugo's waiting for him, patient, amber ready light
glowing like an ember. It says nothing, offers no words of awkward
sympathy. It, like Enoch, is all work, all the time, just the way he likes
it. The way he needs it to be.
He dogs the hatch shut, spinning the manual wheel around and
around until the green light goes on. It's supposed to seal and unseal
all by itself, but he doesn't have the parts he needs to fix the finicky
pressure sensor. The Captain is a frugal man. He makes do, and asks
them all to do the same.
The wheel stops turning. Enoch is locked in. Finally. This is one
place, other than outside, that he can be alone. His parole says he's to
be monitored at all times by the captain or another flight officer, but
Cap gave him the tiny room for his use alone. He trusts him.
He looks at his tiny cell: metal cot bolted to the wall, thin
blanket stretched drumhead tight; steel workbench hung with an
array of well-worn tools. Everything in the room is brown and
black and gray, the only colors Hugo's garish, striped carapace
and a small picture clipped to the air cycling grille above the bed.
He forces himself not too look at the photo.
Enoch sighs and strokes his beard, tugging it gently. He was so
proud when he'd stopped shaving on the day after his wedding night.
Now it's just another reminder of all the things he's lost.
Enoch bends and removes the broken fitting from Hugo's claw.
Behind him, the woman and the child in the photo smile in brilliant
sunshine, unaware of the future calamity that awaits them.
***
"We can't afford to play hide-and seek any more!" one of the
passengers says, a thin man, dressed in the snug-fitting jumpsuit of
the aerospace lancer corps. "The E'k took out Port Saint Arthur and
Havonskaal, then they bombed New Mecca. And we all remember
what happened on Solace."
Many voices mumble agreement as Enoch twitches, the word
stinging, sharp as a slap. He hunches over his tray, eyes downcast,
hoping that nobody has seen his reaction.
"Now I just heard that scout ships been spotted coming through
the jump gate near Mathura-quila," the pilot continues. "How many
more have to die before we hit back? I say we should take the fight
to them!"
"Damn right," one of the others says, a female heavy-worlder
Marine in wrinkled gray battle dress. The uniform stretches tight
across her bulging biceps and flat, man-like chest as she hammers
a ham-sized fist on the table. "Straight-up fight, say me. Crush 'em.
Shoot 'em. Blow alien asses to hell!"
The mess echoes with agreement as pilots and soldiers and
scattered support personnel call out agreement. Enoch watches
from his seat at the last table as men and women raise clenched
fists and shout for blood. The call stirs something in him, a hot, red
pulse that he can feel behind his eyes.
The animal. He'd thought it was gone, asleep or dead. But that
was before Solace. Now it's awake, all the time, pacing in his head.
Making his heart pound and his hands clench.
He takes a deep breath, eyes fixed on his food, struggling to ignore
it. Wrath, his own personal devil, has been God's test of his faith for as
long as he can remember.
"I'm certainly no soldier," Cap says from his place at the high
table, "but facing the enemy directly seems like a rash choice.
Doesn't it, Major?"
The question, asked lightly, cuts through the din. The officers and
soldiers fall silent, heads turning as one to look at their commanding
officer.
Major la Romano raises his cup and takes a long swallow. His
black eyes twinkle with amusement as he dabs at the corner of his thin
lips with a napkin. He has the pencil-thin beard and pale facial scars—
legacy of the honor duels they fight in the streets over the smallest
insult, Enoch's heard—that all men from Paradiso seem to have.
Now his narrow shoulders rise and fall in an elegant shrug. "It is
true," la Romano says, "that the enemy has, so far at least, defeated
us in every stand-up fight. The Concordance navy is in tatters. Our
ground forces are badly shaken, and demoralized."
The silence in the room thickens. Enoch looks up from beneath
lowered brows and sees the scowls of disappointment, the far-away
looks of remembered defeats. The Major puts his cup down on the table.
"However," he continues, "that does not mean that we will not
fight back. That's why we're here shipmates, on this fine, fine ship.
Why we're traveling in secret, like cargo, without our proud flags or
insignia. To assemble where the enemy won't find us. To rebuild our
strength, and share our stories, and, of course, to plan our revenge."
Mutters of agreement ripple through the room. "We must do all we
can to throw back this shameful and unprovoked attack," la Romano
continues, his voice ringing now, full of almost sermon-like intensity.
He stares out at the assembled officers and crew, his black eyes hard
as obsidian. "And we will, comrades, rest assured. We will show them
that humanity does not bend the knee. We will fight. We will resist.
And we will win."
All around, scowls turn to grim smiles. The captain nods, but
Enoch can see the tension in the set of his shoulders, the stiffness in
his neck. "As I said, I'm no soldier," Cap replies. "But doesn't God tell
us to not take our own revenge, but to leave room for His wrath?"
"Oh, there's plenty of room, sir," la Romano replies with a
chuckle. "Room enough for those who have lost family and friends
to help Him with this great task, yes?"
Cap frowns, his disagreement plain for all to see. He scowls into
his cup, and says nothing.
The Major chuckles again, and rests a slender hand on the Cap's
shoulder. "You're Amish, are you not, sir?"
"Neo-anabaptist. As are most of my crew."
"And God… He's sworn you to pursue a path of nonviolence, yes?"
"It's so."
"That's honorable, truly," la Romano says, his tone giving lie to
the polite words. "I, however, follow a different code, laid down by an
altogether different interpretation of God's holy scripture.
"I am a soldier, you see," the Major continues, addressing the
soldiers and officers. "A warrior of God, commissioned by the Holy
Church and dedicated to His service. I am His sword, and His shield,
as are all these brave men and women you see here. We do what must
be done to honor that charge. For as Samson said: 'Though ye have
done this, yet I will be avenged of you.' And we will be avenged,
won't we shipmates? Won't we?"
The room explodes with shouts and cheers, not just the soldiers,
but some of the crew this time as well. Enoch feels his breath catch in
his chest as the red hunger swells, the desire to hit, to cut, to lash out.
He thinks of the picture back in his cell, the image of Ruth and Miriam
that he holds in his heart when the animal bays for blood.
Usually the memory of his family is a cooling rain, soothing his
rage, but this time the vision serves only to inflame him further, feeding
his fury like gasoline poured onto still-glowing embers. Enoch
hunches in his seat, fists clenched beneath the table, shoulders shaking
as raucous shouts echo through the room, fading slowly as the soldiers
file out, returning to the improvised bunks set up in the cargo hold.
The Major nods to his host and joins the officers, no doubt headed
for one of the staterooms, there to drink toasts of contraband spirits to
their inevitable success.
He's still sitting there, food forgotten, when the room finally
empties. A few scattered soldiers, in groups of two or three, sit and
chat quietly. Luke, the skinny mess attendant, clears dishes and
wipes tables.
"What you doing there, say me?" someone asks, cutting through
Enoch's haze of pain. "Praying, you?"
He looks up, into the heavy-worlder's wide face. The Marine's
eyes are close-set, brown and orange like a dog's, framed with a scattering
of freckles. Her dark hair is shaved close to the scalp, short
enough that he can see the lines and swirls of old tattoos, murky blue
and brown. They cut off all their hair, he thinks, so it will not interfere
with the armor and machines they wear to war.
Enoch shrugs, and returns his gaze to the metal table.
"Praying no good," the big woman says emphatically. "God don't
care, say me. Wants people to stand and fight. Respects strength. Don't
want begging for help, Him. Yar!"
He hears her come up behind him, rocks in his seat as she slaps her
hand down on his shoulder.
"Remind me of someone, you. Big hands, honest grease under
nails, yar. Likes, me does." She bends, thrusting her moon face into
his, lips split in a broad, gap-toothed smile, all pale pink gums and
yellowed teeth. The hand strokes, trails up along his neck and over his
stubbled cheek. Her rough-nailed fingers stir his hair, lifting it away
from his amputated ears. He flinches away. "It not look bad. No worry,
you. Like some scars, me.
"Come," she says, low and soft, her breath warm against the ruin
where his ear once was. "Go someplace private, we. Make some noise.
Understand? Be gentle, me. Yar!"
"No," he mumbles. "…m-married."
"Married don't matter. Not here, she. Needs have we. Come. Make
noise. God understand." The hand is grasping now, insistent, pulling
with a heavy-worlder's unsubtle strength.
"Stop," he whispers, all his effort focused on controlling his anger.
"Don't worry," the Marine laughs. "Know good tricks, me. Make
you forget all about her."
Enoch closes his eyes, the red rage uncoiling at the sound of
the Marine's braying laughter. Blossoming, huge, more than he can
hold onto.
Then he's on his feet, not sure how he got there, hand stinging,
knuckles burning. The Marine lies sprawled on the deck, bright blood
on her lips. Echoes of her clattering fall chase themselves through the
mess. The steward and the remaining soldiers stare, eyes wide.
"Leave. Me. Alone," Enoch says softly, holding onto the beast's
tail with all his will, refusing to let it lead him into further temptation.
He turns on his heel and stomps off, fists clenching hard enough
to cramp, but not before he hears her ask the mess attendant, "What
wrong, he?"
"His wife and daughter were on Solace," Luke says.
Enoch does not wait to hear her reply.
The klaxon shrieks, splitting the stillness of third watch.
Continued in Space Battles: Full Throttle Space Tales #6 which you can purchase here.