Writing dialogue can be a challenge for some writers more than others, but it's an extremely important part of good fiction. There are many tools and techniques one can use, the most important being to use your powers of observation. By listening to dialogue of the real people around you, you can learn how people talk, especially people of different socioeconomic, educational and age groups. But there are craft elements involved as well. Here's 10 Tips For Writing Better Dialogue:
1) Use Simple Tags Sparingly. Fancy tags like "he expostulated" or "she espoused" are less clear and more distracting than anything. So keep the tags simple when you absolutely must use them. Instead, convey the manner in which a character speaks instead. Make it obvious from what is said.
2) Instead Of Tags, Use Actions. People talk while actively engaging in activities. So should your characters. Giving them business to do during dialogue allows you to identify who's speaking without resorting to overused tags. Some can come in the form of characterizing the speaker: "His eyebrows lifted with menace," for example. "Bob's fist clenched as he spoke." "Tears rolled down her cheek with every word."
3)  Avoid Expositional Dialogue When Possible. We've all violated this rule, but especially when two characters should already know the information being imparted, it seems unnatural and distracting. In such cases, internal monologue is a better tool and more natural. Characters may think about stuff they already know but they wouldn't tell each other stuff each of them knows.
4) Keep It Short. People talk in choppy sentences. Long soliloquies are rare. So in dialogue, use a combination of short sentences to make it flow and feel like real people talking. Let them interrupt each other, too. People do that in real life. It adds to the pace, tension and drama of it.
5) Avoid Phonetic Spellings For Accents. They are difficult to read. Indications of dialect can be used instead to get the reader to do the rest.  Overuse of a dialect becomes distracting to readers and can actually take them out of the story. Keep the words your characters say as unobtrusive as possible so your story flows seamlessly.
6) Dialogue Is Conflict. Conflict keeps the story moving. People talk like they're playing table tennis–back and forth. This moves the story forward. Lace your dialogue with conflict. It adds dramatic urgency to every line the characters say and keeps the story's pace.
 7) Use Other Characters. Let a character imply who's speaking to them by saying something specific to only that person. If you use business well (see number 2 above), having a character refer to something the other character is doing is a great way to do this.
8 ) Give Each Character A Distinctive Voice. Overdo it and its caricature but we all have our own speech tics. Create some for your characters and sprinkle them throughout. Readers will learn them and know who's speaking. For example, Captain Jack Sparrow loves the term of affection: "love" and uses that a lot. He also says "Savvy?" a great deal as well. He has others you can probably remember, too. Study characterization and see what other writers have done.
9) Speak It Aloud. Talk it out. Get inside the heads of your characters and say the lines. Play out the conversation you've written. Does it sound natural? Does it flow? Your ear is often a better judge than your eyes and hearing it will give you an idea how readers will hear it.
10) Remember What Medium You're Writing For. TV and Film dialogue and novel dialogue are not necessarily the same.  There is no third party to use intonation, facial expressions and/or body language to bring it to life. Your words alone are the conduit between yourself and the reader and your prose skills and the readers' imaginations make it work.
Well, those are my 10 Tips of the moment for writing better dialogue. Do you have any others? We'd love for you to share them in the comments.


---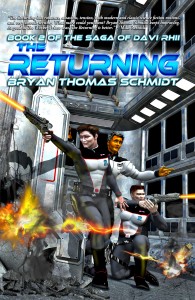 Bryan Thomas Schmidt is the author of the space opera novels The Worker Prince, a Barnes & Noble Book Clubs Year's Best SF Releases of 2011 Honorable Mention, and The Returning, the collection The North Star Serial, Part 1, and several short stories featured  in anthologies and magazines.  He edited the anthology Space Battles: Full Throttle Space Tales #6 for Flying Pen Press, headlined by Mike Resnick. As a freelance editor, he's edited a novels and nonfiction.  He's also the host of Science Fiction and Fantasy Writer's Chat every Wednesday at 9 pm EST on Twitter under the hashtag #sffwrtcht. A frequent contributor to Adventures In SF Publishing, Grasping For The Wind and SFSignal, he can be found online as @BryanThomasS on Twitter or via his website. Bryan is an affiliate member of the SFWA.
3 5-star & 6 4-star reviews THE WORKER PRINCE $3.99 Kindlehttp://amzn.to/pnxaNm or Nook http://bit.ly/ni9OFh$14.99 tpbhttp://bit.ly/qIJCkS
Preorder THE RETURNING here for June 19th release!