The following is an excerpt from my book How To Write A Novel: The Fundamentals of Fiction, Chapter 7:
Dialogue and Pacing (In media res)
Previously, I wrote about In Medias Res—the rule that you should get into a scene as late as possible and get out as soon after as you can to up the tension and help pacing. This is particularly true in dialogue scenes. Dialogue, as a rule, tends to move faster than action and description, upping your novel's pace. In How to Write a Damn Good Novel, James N. Frey writes: "Plunging into the middle of scenes speeds your novel along and keeps the reader involved in the rising conflict…When critics say a work is fast-paced, it is often because the writer keeps his characters engaged in intense conflicts and cuts directly into scenes with rising conflict." A lot of time can be saved by starting scenes with the conflict already happening or ending them right as it ends. The results will also make your story feel faster. For example:
Johnny opened the door and stepped into his kitchen.

"Hi, honey," his wife said, sing-song as usual, and   bounced across the floor to

 

greet him. They embraced 
and kissed as usual before she asked, "How was your 
day?"

"Boring. Usual sales calls. Nagging boss. How was 
yours?"

"It sucked. I got fired," she said, frowning. Johnny 
hadn't expected it, given her great mood.
Now what if it were written like this?
"Today sucked," Johnny's wife said the minute he 
opened the door.

"What happened?" he asked as she moped across the
floor to greet him.

"My boss is an asshole," she said, then kissed him.

"Well, we kinda knew that."

She smiled. "Well, now we have proof."
Which feels more dramatic and fast paced? In every scene you write, look for the best way to enter dramatically and shape the dialogue for the greatest dramatic effect. In real life, niceties like greetings and chatter might be socially expected but in dramatic narrative, they kill pacing. Just cut to the drama. Charles Johnson in The Way of The Writer: "We should remember that dialogue occurs in a context, in other words, within a specific scene. And every dramatic scene has a structure. If we have two characters, say, each enters a scene motivated by a desire or need (or conflict) that has brought him or her there." Sometimes establishing a rhythm requires getting the characters into a scene with a greeting or set up, and sometimes they jump right into the conflict or have "a hit" as Johnson calls it, "the heightened moment in the scene where what has brought them there is finally revealed." It depends on the needs of the story and scene and characters at that moment. It must be natural while at the same time dramatic. Still, finding ways to cut to the chase will make your dramatic narrative more effective every time.
Here's an example of dealing with a phone call from John Sandford's Rules of Prey:
Lucas looked up at the clock. Eleven-forty. Damn. If 
the cop who took the gun was planning

 

to call, he 
should have done it. Lucas looked at the phone, 
willing it to ring.

It rang. He nearly fell off his drawing stool in 
surprise.

"Yes?"

"Lucas? This is Jennifer."

"Hey. I'm expecting a call. I need the line open."

"I got a tip from a friend," Jennifer said. "He says 
there was a survivor. Somebody who fought off the 
killer. I want to know who it was."

"Who told you this bullshit?"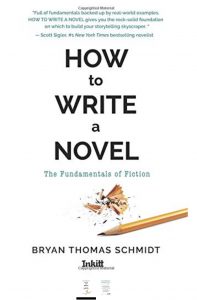 Two techniques are used to increase the tension of the scene. First, Lucas, a detective, is awaiting an important call. By telling us this, Sandford allows readers to feel the character's tension as he looks at the phone. Second, because the caller is a tv reporter and not the fellow cop he was waiting to hear from, we get more tension, despite the routine nature of the chit chat that opens the call. If you need a bit of social nicety, this is a great way to handle it while still keeping the scene as dramatic as possible. Also, note the varied length in sentences, none of which are especially long. Johnson writes: "Characters usually speak naturally or colloquially in short, crisp sentences." Study the speech patterns of others around you and you'll see this is true. Varied length of sentences also affects pacing and can add dramatic effect to a scene, in addition to being more natural particularly in dialogue.
Dialogue is not normal conversation. It is conversation with drama. It is a medium of performance. William Noble writes in Conflict, Action, & Suspense: "The throwaway words of conversation such as "Hello," "How are you," "I'm fine," "Good" should never be thought of as dialogue…because they don't contain drama. Don't reproduce conversation and call it dialogue; reproduce only that portion of the conversation that has drama…Dialogue must contribute to telling the story. If it doesn't, it's of no use." Dialogue needs to move in a few short sentences. Take this example from Skinwalkers by Tony Hillerman:
"Where was it?"

"On the floor under the bunk. Maybe it fell out when I changed the bedding."

"What do you think?" Leaphorn asked.

"I think I never had anything that had beads like that
on it or knew anybody who did. And I wonder how it 
got here."

"Or why?" Leaphorn asked.
In this scene, Navajo detectives Joe Leaphorn and Jim Chee are at Chee's trailer, which was shot up the night before, looking for evidence. The bead they discover raises ominous questions, upping the tension, and it becomes a major key to the unfolding mystery of the overall story. This is how you write effective, dramatic dialogue. Cut to the chase, the drama, what matters, and skip everything else. Noble writes: "When dialogue disintegrates into dull conversation, it destroys the forward movement of the tale, and once this happens, the conflict falls apart and the action and suspense hold no one's interest." Dialogue must always fulfill two purposes: Keeping the story moving and developing characterization. This is why most dialogue inevitably becomes confrontation. "Readers are interested in confrontation because the drama inherent in a face-off carries excitement and uncertainty," Noble writes. The "Yes/No" countering in dialogue carries inherent disagreement that ups the drama every time.
Also, humans are rarely directly responsive to each other when conversing. Oblique or partial responses, especially those that ask or raise questions are common. And this keeps the pace of the conversation flowing. 
"It's cold out tonight."
"I'll get locked out if we don't hurry."
Not, "my fingers are cold," which would be a commentary on the coldness. Instead, the reply is about the agenda of the second character. Since this is a natural human trait due to poor listening skills most of us possess, it is a great tool to utilize for keeping dialogue dramatic and moving. It avoids bogging down the story in chit chat, while also providing information about the characters: their motives, priorities, what is on their minds.
Varying character emotions is also an effective tool. If one character underplays and response calmly, while the other is tense and emotional, this has the effect of varying pace while also building the story. When we are stressed and talking to someone who isn't, we naturally want them to share our sense of urgent emotion. Tension increases each time they respond calmly to our urgency. The same is true in dramatic scenes. Subtext—implying more than the words say directly—is a great technique for upping the drama via underplay. It makes the impact more devastating, too. 
"You're not sleeping," Roger said.

"I'm trying," Julie replied.

"You answered."

"Well, you talked to me," she replied but left her arm
laying over her eyes just where it had been.

He rolled over and touched her shoulder. "I can't stop
thinking about it."

She groaned. "Damn it."
Subtext is when something going on beneath the surface unspoken changes the meaning of a scene. Here, the subtext is that Roger has something urgent on his mind but Julie doesn't want to talk about it. She is annoyed at being bothered. But this is never stated outright. The mystery of it allows the story to build because we are waiting to see what happens, wondering how it will play out. Will they talk or will she go to sleep? Will this lead to more conflict later? Etc. It is subtle, but very effective, and not unrealistic to life.
Stream of consciousness in interior dialogue can also be used to up tension, especially in scenes where dialogue with others is impossible because a character is alone.
She was coming toward me. I couldn't get into it 
again. I glanced around for somewhere to hide.
This kind of inner monologue adds tension, even if the "she" is someone we have not seen before by asking questions we want to know the answer to, thus upping tension and building expectation that it will pay off in a dramatic fashion at some point later.
Another technique to aid pacing with underplayed dialogue is gesturing.
"Someone's coming," Al said.

"Is it him?" Rick never even looked up from his 
newspaper.

"Blonde, tall, thin, about twenty or so?"

"That's what the boss said, yeah."

 



Al watched as Rick reached down and fingered the blade
in his pocket. "I think

 

it's him," Al motioned. This 
time they both looked.
Two mobsters waiting for their victim. Plenty of tension from the implied expectation, but the dialogue itself isn't all that dramatic. It is the subtext which adds the drama. The gesturing adds dimension by having the characters innocuous dialogue be underscored by what they are doing: waiting for a victim, knife ready. And when the body movement happens, it is almost like the start of violence. It is restrained, but we anticipate it, and the physical movement punctuates the anticipation by foreshadowing a physical response to go with the subtext.
These techniques are always effective time and again when keeping dialogue dramatic and well-paced so they keep the story moving and reveal character at the same time.
Next week, we'll talk about writing action.