Well, my first WorldCon is looking good. I'd hoped to make Reno last year but then life fell apart and I had to sell my memberships to Patrick Hester and Jeremy Tolbert. I'm glad they could use them,  but this year, I'm going, and here's my agenda. The boxed items are ones I will be a panelist for. The rest, events I am planning to attend, for those wanting to find me. I look forward to it very much. It's an honor be included in Programming.
Thursday, August 30th, 2012
3:00 -6:00 p.m. Arrival/Checkin
Thu Aug 30 7:00:pm
Thu Aug 30 7:30:pm
Reading: Bryan Thomas Schmidt reading from The Worker Prince and The Returning
Dusable

Bryan Thomas Schmidt
8-10:30 p.m. First Night at Adler Planetarium
Friday, August 31st, 2012
9-10:00 a.m. Dealer's Room (Book Universe will be carrying my books throughout the Con & I'll be at the SFWA table 10-12)
12:30 p.m. Howard Andrew Jones Reading (Dusable)
1 p.m. Lunch with Maurice Broaddus
2:00ish-3:00 p.m. Autograph Sessions (Crystal B/Autograph Table) featuring Mike Resnick, Brad Torgersen, Catherine Asaro, Connie Willis, David Brin, Eric Flint, Gardner Dozois, Harry Turtledove, Jack McDevitt, James Patrick Kelly, Kay Kenyon, Kij Johnson, Laura Resnick, Nancy Kress, Nick DiChario, Robert J. Sawyer, Robert Silverberg, Sheila Williams, Steven H. Silver (I'll be bringing books for several of these people to sign)
Fri Aug 31 3:00:pm
Fri Aug 31 4:30:pm
Autograph Session 5
Autograph Tables

Bryan Thomas Schmidt

Geoff Ryman

Hugh Howey

Jacqueline Carey

Jacqueline Lichtenberg

Mike Flynn

Nnedi Okorafor

Seanan McGuire

Vylar Kaftan
4:30-6:00 PM – I may attend Mike Resnick's Interview. I'd like to but it depends how tired I am from everything else and if I need to just sit at the bar. I will be doing one or the other here and stop by Dealer's Room (Book Universe) to sign if needed
5:30 p.m. – Saladin Ahmed Reading (Dusable)
6:00 p.m. – Dinner with Howard Andrew Jones and James Enge
7:00 p.m.-ish -NightShade Night Bazaar Party
9:00-10:30 p.m. – Guest of Honor speech: Mike Resnick (Columbus KL)
Saturday, September 1st, 2012
9 a.m. – SFWA Business Meeting/light breakfast (Comiskey)
10-11:00 a.m. Dealer's Room (Book Universe) or hanging to  network
11-1:00 p.m. Lunch With Jay Lake (i.e. Hanging Out)
Sat Sep 1 1:30:pm
Sat Sep 1 3:00:pm
Moral Ambiguity in SF (I am Moderator)
Buckingham
Is there still room for moral structure in SF societies and worldbuilding? How does moral ambiguity represent or fail to capture the real world? What are its pitfalls

Bryan Thomas Schmidt

Charles Stross

Jay Lake

Lissa Price

Nancy Kress
Sat Sep 1 3:00:pm
Sat Sep 1 4:30:pm
Vivid Character Building (I am Moderator)
Columbus CD
How do you create vivid characters who pop off the page? How do you avoid archetypes/stereotypes and predictability? Join a panel of writers discussing their techniques and tricks and ask questions of your own.

Bryan Thomas Schmidt

Carol Berg

Kay Kenyon

Randy Henderson

Teresa Frohock
4:30-6:00 p.m. Dealer's Room (Book Universe)
7-? p.m. Bar Con/Parties/Dinner
8 p.m. Cat Rambo/Stina Leicht Party
Sunday, September 2nd, 2012
Free Day
I will hang out in public areas a lot, may go to a panel but mostly just network
7:00 p.m. Find seat at Hugos
8:00 p.m. Hugo Awards Ceremony
After Parties
Monday, September 3rd, 2012
Mon Sep 3 9:00:am
Mon Sep 3 10:30:am
Faith in Science Fiction & Fantasy
Field
Faith can take many forms besides organized worship of a Higher Being, and yet, not a single Earth culture known to us exists absent a faith system in some form. What is the importance of faith in motivating human beings and in creating realistic worlds? What are the things people put their faith in? Magic? Science? Laws? Government? Wealth? Fame? Not a debate of the validity of ideas but a discussion of their value and use as motivators for all of us.

Bryan Thomas Schmidt

Dennis Y. Ginoza

Isabel Schechter

Randy Smith
10:30-12:00 p.m. Dealer's Room (Book Universe) and hanging out
12-1:00 p.m. Pack/Checkout
1:30 p.m. to Amtrak for home (3:00 train)
---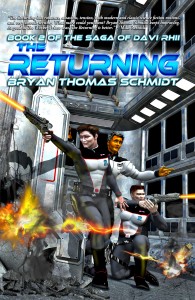 Bryan Thomas Schmidt
 is the author of the space opera novels 
The Worker Prince
, a 
Barnes & Noble Book Clubs Year's Best SF Releases of 2011
  Honorable Mention, and
The Returning
, the collection 
The North Star Serial, Part 1
, and several short stories featured  in anthologies and magazines.  He edited the anthology 
Space Battles: Full Throttle Space Tales #6
 for Flying Pen Press, headlined by Mike Resnick. A freelance editor, he's edited novels and nonfiction and also hosts 
Science Fiction and Fantasy Writer's Chat
every Wednesday at 9 pm EST on Twitter under the hashtag #sffwrtcht. A frequent contributor to 
Adventures In SF Publishing
, 
Grasping For The Wind
 and 
SFSignal
, he can be found online as @BryanThomasS on Twitter or via his 
website
. Bryan is an affiliate member of the SFWA.