Well today my friend Alex Cavanaugh is hosting:

Genre Favorites Blogfest, September 17, 2012
One blogfest, four favorites!
List your favorite genre of:
Movie
Music
Books
And a guilty pleasure genre from any of the three categories!
This will be short and sweet compared to my usual blogposts, since not a lot is required. And so, I shall list my four.
Movie:
Science Fiction without a doubt
Star Wars: A New Hope made stories come to life and made it my dream to tell stories. And I've been hooked ever since. I love me some good escapism, frankly, and I love to imagine new and different worlds, places, and people. It's why I love travel so much.
Music:
Tough call, I'd say 80s pop/rock
I am an 80s kid, and Time/Life's Sound Of The 80s is like a scrapbook of memories. I just love the stuff. And I think I was lucky to grow up in such a rich musical era.
Books:
Science Fiction & Fantasy again with thrillers a close second
My reading tastes are diverse but SFF are certainly my first love. Luckily, there's a lot of diversity within them and by hosting SFFWRTCHT and interviewing authors, I wind up reading many I might not have discovered on my own. Lately, even YA and Paranormal Romance have entered the mix. Guess I should do more horror but I've had a couple of those too.
Guilty Pleasure:
Tough call because I have to admit it publicly…so here goes… Journey. I can't get enough of it. I could air guitar to it until the sun goes down and rises again. Okay, not that embarrassing or uncommon, but alas, it's true. I even love the 
Glee
versions to sing along with.
So, there you have my Genre Guilty Pleasures. What are yours?
---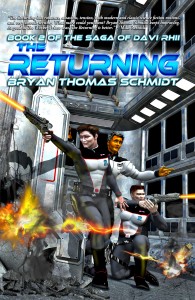 Bryan Thomas Schmidt is the author of the space opera novels The Worker Prince, a Barnes & Noble Book Clubs Year's Best SF Releases of 2011  Honorable Mention, andThe Returning, the collection The North Star Serial, Part 1, and several short stories featured  in anthologies and magazines.  He edited the anthology Space Battles: Full Throttle Space Tales #6 for Flying Pen Press, headlined by Mike Resnick. A freelance editor, he's edited novels and nonfiction and also hosts Science Fiction and Fantasy Writer's Chat every Wednesday at 9 pm EST on Twitter under the hashtag #sffwrtcht. A frequent contributor to Adventures In SF Publishing, Grasping For The Wind and SFSignal, he can be found online as @BryanThomasS on Twitter or via his website. Bryan is an affiliate member of the SFWA.