Well, here it is at long last, the cover for my upcoming debut children's book 102 More Hilarious Dinosaur Jokes For Kids.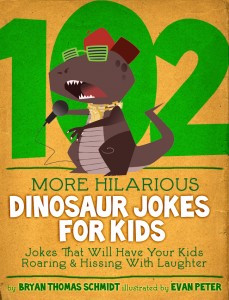 Jeff Rutherford, publisher/editor of Delabarre Publishing sent it over today and I'm quite excited because the illustration samples he's been sending for a while are really cool. The second in a series of joke book ebooks–Delabarre publishes many of these–I wrote it in February and it's been in artwork and planning for a while. Expect to see release this Fall. I don't know Even Peter, the artist, but I think he's done a great job.
To give you an idea, here's a couple of sample jokes:
What do you call it when you're hit by a dinosaur? Dino-sore.
What do you call a dinosaur with stripes? Zebrasaurus
What do you call a singing dinosaur? A RAPtor.
(Yes, this is the cover image, note the gold chains.)
What do you call a dinosaur who sings opera? Divasaurus
What kind of ghost terrifies dinosaurs? Scare-o-saurus. 
Silly? Yeah. But they're for kids and hopefully they're a combination of simple and clever that will keep them entertained. Most of them I made up although I did research a few more popular ones from the web that hadn't been used in the prior book.
Thanks to the parents and kids who beta read the book and gave feedback and to Jeff and Evan as well.
---

Bryan Thomas Schmidt is the author of the space opera novels The Worker Prince, a Barnes & Noble Book Clubs Year's Best SF Releases of 2011 Honorable Mention, and The Returning, the collection The North Star Serial, Part 1, and several short stories featured  in anthologies and magazines.  He edited the anthology Space Battles: Full Throttle Space Tales #6 for Flying Pen Press, headlined by Mike Resnick. As a freelance editor, he's edited novels and nonfiction.  He's also the host of Science Fiction and Fantasy Writer's Chat every Wednesday at 9 pm EST on Twitter under the hashtag #sffwrtcht. A frequent contributor to Adventures In SF Publishing, Grasping For The Wind and SFSignal, he can be found online as @BryanThomasS on Twitter or via his website. Bryan is an affiliate member of the SFWA. Bryan is currently at work on the Abe Lincoln: Dinosaur Hunter series of chapter book for Delabarre.