The following is an excerpt from my book How To Write A Novel: The Fundamentals of Fiction, Chapter 13, slightly modified for this blog.
As a professional editor, one of the questions I hear most often from writers and others is how does one go about finding and hiring a good editor. So today's tip addresses that challenge.
First, it's important to know the type of editor you need. This diagram breaks down the types of editing a writer may encounter or need:

Most writers will be hiring either Developmental, Line or Copy Editors for their book. Not every editor does all of them, but some do more than one. I do all three and frequently do Developmental and Line Editing together as a package because they can be combined easily. Copy Editing is a separate pass requiring different focus and skills. Proof Readers are also quite useful, although many people find volunteers who are helpful and cost effective.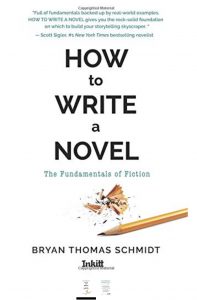 If you need to hire an editor on your own you will need to do some research. For information on standard rates, check the Editorial Freelancers Association for a list of average rates here:https://www.the-efa.org/rates/. For individual editors, they should have their rates on their website as well as a list of clients they have worked with and even quotes recommending them. For me, I'd ask some of the clients about them as well as friends to see what kind of reputation they have in the community. Then most editors usually offer a sample edit to demonstrate their skills for free (usually a page or two, maybe a chapter). Submit your work to several for samples and then compare them when you get them back. You can also reach out via social media to authors you admire asking for recommendations. Most of us have been there and will be happy to point you in the right direction toward finding a good, reliable editor—one we've worked with or who has worked with friends. Be sure and search bookstores and online for books in print that they've edited and check the quality and who published them. This kind of information tells you their level of success and skill as well as their taste, which can be important, as well as their knowledge of genres. You definitely want someone knowledgeable in the genre in which you are writing to help you navigate market expectations, tropes, and other genre-specific concerns.
Once you've found an editor or two you are interested in, ask for full quotes and discuss their cancellation fees, timeframe and deadlines, and how they deal with cost overruns, if any. You'll want to be sure in advance you are not charged for extra time without permission, whether they do extra passes or just one, etc. Then choose your editor and get a contract. Make sure the contract outlines guarantees to you, not just the editor. Usually there will be clauses about payment schedules, how they deal with non- or delayed payments, etc. as well as a delivery timetable. All of this is important to have in writing to avoid conflict later, as these tend to be the areas where most misunderstandings and conflict occur between freelance editors and clients.
After that, you send them you book and get started.
I would expect a decent editor to need between three weeks and six to edit the average novel well (80,000 to 130,000 words). More if your book is longer. I would also expect them to send you regular updates on the progress and even provide the first half around the time any second payment is due, so you can get an idea of the quality of their edits, usefulness, etc. Editors work for you in this case, not a publisher, so you have total control over what you do with their edits. That's why it's very important to hire an editor you trust and enjoy working with, then trust their judgment enough to use their advice. Your editor's job, whether freelance or in-house, is to help you make your book the best it can be. If you succeed, they look good, too, but most of all, you look good, because your book is your reputation, your calling card. The editor has no motivation to ruin your book with bad advice or to sabotage or hurt it. So the advice they give is always intended to help, whether it hurts your feelings or not. There is a need for your editor to be somewhat blunt—though most try to point out strengths as well as weaknesses and use a sense of humor in doing so to soften the blow—so that you get a sense of how readers will react and can really dig into the issues properly. Remember, it is not personal nor is it an attack. They are all about helping you. They are on your side. So take their comments seriously, ask questions as you have them, and try to find a way to make them work if at all possible, never dismissing them entirely out of hand.
There will be times when you disagree. Some of those will be over things that are per choice, up to you. Personal taste or preference may be a part. Good editors will admit this and explain their reason for making the editorial suggestions. These are the edits you should decide if you agree with and want to do. In other cases, edits are absolutely necessary. These usually are edits about clarity and understanding, facts, character motives, story holes, story pacing, mood, tone, emotion, etc. and should be considered very carefully and every attempt made to find a solution you can both agree on, even if it is a compromise. Remember that we all have weaknesses and strengths and the writing process is a journey. Everyone wants to best book possible and is working toward that goal, because a great book makes us all look good. Keeping that in mind should make it easier to take criticisms, even when they sting or confuse, and put you in the right mindset to trust and work with your editor as a partner, not an opponent.
Ultimately, once your book is edited, it is ready to go on to formatting, copyediting, and proofing. And those stages will involve more edits, but generally focused on repetitive words or phrases, grammar and spelling errors that slipped through, italics and underlining, house style, punctuation, etc. If the items are house style, they are nonnegotiable. Everything else can be discussed and considered, but, of course, if the grammar is wrong unintentionally or you have misspellings, you need to fix them. Accuracy matters to readers and critics. It is about professionalism and presentation.
I find the editorial process with some clients can be like pulling teeth, but with many it is pure joy. I enjoy very much watching writers gel with their material as things come into clearer focus, get stronger, and take on that sparkle they always envisioned in their minds. There's real joy in watching a good book become great and seeing the pride the author takes in it and the success that follows. I feel very much a part of that, as well any editor, and if you find a good one, hold onto them and treasure the relationship. It is like finding gold.