Imagine, if you will, the dark streets of Boston. Trouble is afoot, a revolution against the wealthy and the authorities. Equality and justice are demanded by protesting crowds, some of which get out of hand at times, leading to smoky, dark nights. Add to that ghosts and dark magic at hand, a secret sorcerer working his will in the midst of the chaos. Sounds like a pretty good urban fantasy, right?
Now imagine all this is occurring during the Stamp Act uprising in the 18th Century. Samuel Adams and the Sons of Liberty, the original Tea Party, the Colonists stirring against the British Crown.
D.B. Jackson's debut alternate history novel is the tale of a thieftaker, one who hunts down stolen property for a fee and returns it to its rightful owners. What separates him from his competition, however, is Ethan's gift for conjuring. He was born with the gift, inherited from his mother, and now Ethan Kaille is called upon to investigate the theft of a brooch off the neck of a murdered daughter of one of Boston's wealthy merchants. Murders are not the sorts of crimes men like Ethan typically get involved with, but the girl's cause of death is undetermined and some believe conjuring was involved, and so Ethan promises to find the stolen brooch and return it, revealing what he also discovers about the murderer in the process.
But once he gets involved, finding himself haunted by ghosts and voices of not just the dead daughter but others who've died in similar fashion, attacked by his main rival, Sephira Pryce, a thieftaker who rules the city in ways less honorable than Ethan and many of her trade, and hunted by the authorities. Drawn into an unfolding mystery by his compulsion to understand and his desire to set things right, Ethan uncovers a dark conspiracy that brings him into encounters with the British leadership, upper crust merchants, and even Samuel Adams himself.
Jackson is the nom de plume of a well respected fantasy writer with numerous fantasies under his belt. And his skill at prose, worldbuilding, and character development shine through on every page. Add to this his degree in history and passion for that, and you have a book that drips with authenticity, despite the fantastical elements wove into the historical narrative. Colonial Boston really comes alive here, and the story draws you in quickly, compelling you to read onward with every page.
Alternate history is as tricky as working in a contemporary setting because so much documentation and knowledge exists that one has to study hard and tread carefully in order to use history both responsibly, meaningfully and fairly in weaving a fictional tale around and within it, while still crafting elements which would appeal to the genre fans for whom the book will be primarily targeted. But my opinion is that any fan of history, particularly Revolutionary War America, would love Thieftaker. And I think it's a not to be missed start of a new not to be missed series.
Jackson is scheduled to follow next year with Thieve's Quarry and everything from the beautiful cover art to the prose, dialogue and settings works together to bring this charming, authentic, well paced tale to life. It's unique and yet familiar. And it's one of my favorite reads of 2012 so far. Highly recommended!
---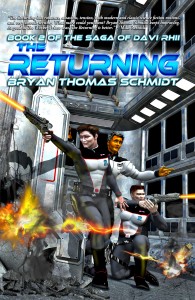 Bryan Thomas Schmidt is the author of the space opera novels The Worker Prince, a Barnes & Noble Book Clubs Year's Best SF Releases of 2011  Honorable Mention, and The Returning, the collection The North Star Serial, Part 1, and several short stories featured  in anthologies and magazines.  He edited the anthology Space Battles: Full Throttle Space Tales #6 for Flying Pen Press, headlined by Mike Resnick. As a freelance editor, he's edited novels and nonfiction.  He's also the host of Science Fiction and Fantasy Writer's Chat every Wednesday at 9 pm EST on Twitter under the hashtag #sffwrtcht. A frequent contributor to Adventures In SF Publishing, Grasping For The Wind and SFSignal, he can be found online as @BryanThomasS on Twitter or via his website. Bryan is an affiliate member of the SFWA.