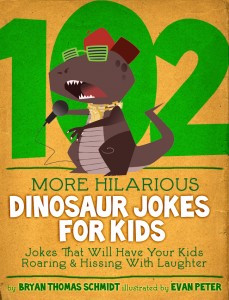 102 More Hilarious Dinosaur Jokes For Kids: Jokes That Will Have Your Kids Roaring & Hissing With Laughter
by Bryan Thomas Schmidt
Illustrated by Evan Peter
What's a Velociraptor's favorite number?
Eight (ate)!
Kids are fascinated by dinosaurs – what they looked like, what they ate, where they lived, how you pronounce their names, etc. Kids also love jokes, riddles, puns.Kids loved Delabarre Publishing's best-selling 101 Hilarious Dinosaur Jokes: T-Rex Ticklers and Raptor Riddles to Keep Your Kids Roaring With Laughter, and now kids have even more dinosaur jokes with 102 More Hilarious Dinosaur Jokes For Kids: Jokes That Will Have your Kids Roaring and Hissing With Laughter.
What do you call a dentist who treats dinosaurs?
Scared.
ebook, 51 pages
Published August 2012 by Delabarre Publishing
edition language
English
Price: $2.99
My first children's book release from Delabarre Publishing arrived August 1st, 2012. Second in a series, the first written by another author, 102 More Hilarious Dinosaur Jokes For Kids contains illustrations by talented artist Evan Peter. Containing exactly what the title implies, 102 Dinosaur Jokes appropriate for all ages but primarily aimed at kids, this book will be enjoyed again and again.
Available in ebook at the following:
Reviews and more information can be found at Goodreads
For more joke books and other fine books from Delabarre Publishing, click here.
ABRAHAM LINCOLN: DINOSAUR HUNTER
I also turned in 9/23/12, the first book of a chapter book series called Abraham Lincoln: Dinosaur Hunter, in which 10-year-old Abe, his best friend Jacob and their hero Davy Crockett (adult) get sent back in time with a teenage inventor's malfunctioning time machine to the dinosaur age. In book 1, Land Of Legends, we see how they got there and discover their new world, including encounters with a sabre-toothes tiger, a Stegasaurus and a T-Rex named Scarface.
"ABRAHAM LINCOLN: DINOSAUR HUNTER — LAND OF LEGENDS succeeds on almost every level –readability, alternate history, adventure, and excitement." — Mike Resnick
"Prehistoric action and Abe Lincoln in one rollicking swoop!" — Tamora Pierce
Abraham Lincoln may or may not have fought vampires, but not many people know that when Abraham Lincoln was 10 years old, he fought something much worse – a Tyrannosaurus Rex.
One day young Abe Lincoln is marveling over meeting his hero, Davy Crockett. The next, Davy saves Abe's life. But when they kindly agree to teenage inventor Nehemiah's urging to test his newfangled time machine, they wind up sent back in time…to the age of dinosaurs.
When the machine gets broken, adventures ensue as Lincoln and Crockett fight dinosaurs and race to find the materials needed to fix the machine that can take them home. Abraham Lincoln – Dinosaur Hunter: Land of Legends is the first volume in a new action-packed middle-grade series. Science Fiction/Fantasy Adventure with great humor and good lessons about friendship, teamwork and more.
This is the first book of an ongoing series for which I have 7 more planned already. It hit stores in ebook and trade paperback in February 2013.  You can read an excerpt here.
To buy the book today at Amazon, click here.
To buy the book today at Barnes & Noble, click here.
To buy the book today at Kobo, click here.