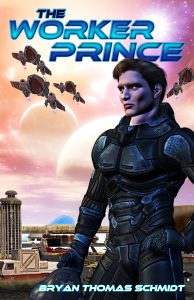 Listed as Honorable Mention on B&N's 2011 Best SF List
The Worker Prince by Bryan Thomas Schmidt
Book 1 In The Saga Of Davi Rhii
"If your reader's heart longs for the Golden Age of Science Fiction–when good was good and bad was bad, and great characters fought against universal odds–then The Worker Prince is for you. Good, retro fun for the whole family."— Jason Sanford, author Never Never Stories, Interzone
"I found myself thinking of stories that I read during my (misspent) youth, including Heinlein juveniles and the Jason January tales, as well as Star Trek and Star Wars."— Redstone SF 
What if everything you thought you knew about yourself and the world turned out to be wrong?
For Davi Rhii, Prince of the Boralian people, that nightmare has become a reality. Freshly graduated from the prestigious Borali Military Academy, now he's discovered a secret that calls into question everything he knew about himself. His quest to rediscover himself brings him into conflict with his friends and family, calling into question his cultural values and assumptions, and putting in jeopardy all he's worked for his whole life. One thing's for sure: he's going to have to make decisions that will change his life forever…
326 pp · ISBN 978‐0‐9840209‐0‐4 ·Trade Paperback/Epub/Mobi · $14.95 tpb $4.99 Ebook  · Publication: October 4, 2011
What are others saying?
"A significant new author in the field of space opera – Bryan is a fresh new imagination to watch out for!"— Grace Bridges, author of Faith Awakened and Legendary Space Pilgrims

"Retro-with-a-twist SF brimming with an infectious enthusiasm!" — Saladin Ahmed, author Throne Of the Crescent Moon 
"Bryan Thomas Schmidt's "The Worker Prince" will appeal to readers of all ages. Bryan deftly explores a world where those who believe in one God labor against oppressors, and a single man may have the power to change their situation for the better. But will he be able to rise above all that his powerful uncle has taught him?" — Brenda Cooper, Author of The Silver Ship and the Sea and Mayan December
"In The Worker Prince, Bryan Thomas Schmidt combines elements from the Biblical story of Moses with exciting outer space action to create a satisfying hero's journey that is well worth taking."  — David Lee Summers, Author of The Solar Sea/Editor of Tales Of The Talisman.
"Bryan Thomas Schmidt's love for Science Fiction comes through on every page.  The Worker Prince is fun for any age." — Maurice Broaddus, Author of The Knights Of Breton Court and King's Justice.
"A thoroughly enjoyable science fiction adventure epic. I'm looking forward to the next book!" — Jaleta Clegg, Author of Nexus Point and Autumn Visions.
Available at these retailers



Or buy at my webstore below:
To order http://bryanthomasschmidt.net/store/
Here's the book trailer and solar system map:

The Worker Prince: Saga Of Davi Rhii Book 1 Trailer from Bryan Schmidt on Vimeo.
Put together by talented fellow author Brian Knight from my script, with Voice Over from Randy Streu, one of my editors, art from Miranda Jean and lots of free stuff of the web, may I present my first book trailer: Worker Prince Trailer with Music (click to play). Working on literally no budget, they did an amazing job.
The You Tube version can be found here: http://www.youtube.com/watch?v=h992LgdprT8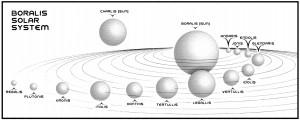 Click map to enlarge
Here's the rest of the cover: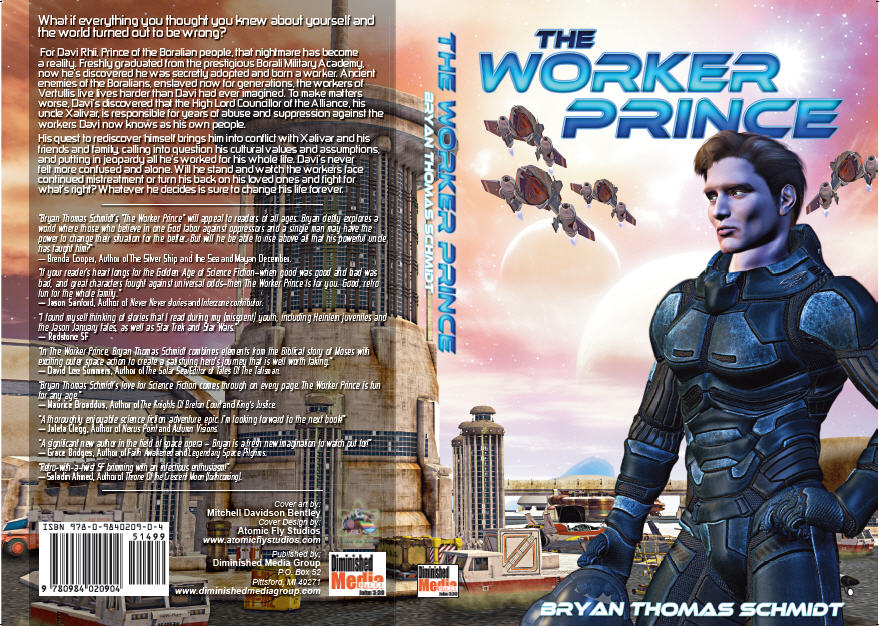 And here are links to the reviews so far:

Bookworm Blues gives The Worker Prince 3.5 stars: http://www.bookwormblues.net/2012/09/17/re-review-the-worker-prince-bryan-thomas-schmidt/
A new 4-star Amazon review for The Worker Prince: http://bryanthomasschmidt.net/2012/08/24/new-4-star-amazon-review-for-the-worker-prince/
http://vantiltool.blogspot.com/2012/02/space-age-moses-featured-in-bryan.html (no star rating given but looks like a 5 to me)
http://www.garywolson.com/blog/viewpost/88 5 star review
http://raymondmasters.wordpress.com/2011/10/21/book-review-the-worker-prince-by-bryan-thomas-schmidt/ 4.5 stars
http://functionalnerds.com/2011/12/review-the-worker-prince-by-bryan-thomas-schmidt/ Catherine Russell at Functional  Nerds with a 4 star review
http://thenerdeye.net/2012/02/book-review-worker-prince-by-bryan.html Ben Love with a 4 star review
http://dragonlotsma.blogspot.com/2011/07/why-not-question-book-review-worker.html 4 stars
http://www.goodreads.com/review/show/200578646 4 stars
http://jaletaclegg.blogspot.com/2011/10/thursday-special-book-review-worker.html 4 stars
http://blog.rlcopple.com/?p=521 4 stars
http://www.examiner.com/book-in-ann-arbor/review-the-worker-prince-review?render=print#print 4 stars
http://bryanthomasschmidt.net/2011/10/30/apex-reviews-the-worker-prince-4-star-review/ 4 stars
http://blogginoutloud.blogspot.com/2011/10/review-of-worker-prince.html
http://www.sfsignal.com/archives/2012/01/review-the-worker-prince-by-bryan-thomas-schmidt/comment-page-1/#comment-98494