The following is an excerpt from my book How To Write A Novel: The Fundamentals of Fiction, Chapter 7:
Chances are fifty percent or more of your novel will consist of dialogue. Dialogue is the characters' chief method of communicating information to one another (and readers). But remember: Conversation isn't dialogue. Dialogue is drama. It is a certain type of dramatic representation of conversation that has conflict and drama and urgency. It may imitate conversation but there is no chit chat. Dialogue involves imparting key information about plot, emotion, character, setting and more that drives the story forward. It involves building tension, pace, and foreshadowing conflict as well as expressing present conflict. Dialogue is one of the essential craft tools of good fiction writing.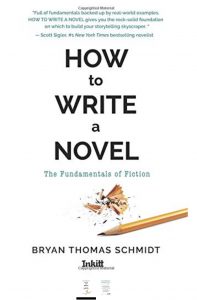 Johnny Payne writes in
Voice & Style
:  "Dialogue is the essence of teaching…The role of dialogue within fiction can be defined as not so different from the one it plays in learning. Ideally, it should deepen with progressive readings, leaving the reader with an increased understanding of the story's consequences." In some ways, dialogue exists in tension with, and separate from the authorial voice. Characters care nothing about the author's life or concerns, just their own. When two or more characters dialogue, they are in a sense "talking back" to the author or narrative voice. They contest it at times, challenge it, add complexity to its views. This tension gives us perspective on the narrative voice while also clarifying the independence of characters in the story from the narrator. By necessity, fiction must be truer than life in order to give us different perspectives on it. Because characters always speak in opposition—conflict lies at the heart of drama, remember—the tension between character voices and author voice is a key element of the storytelling experience, adding tension and drama and upping the stakes. And while dialogue is part of overall voice, because characters and narrator can also speak in opposition, they create the kind of multiple meanings and complexity associated with dramatic irony. As narration directs and lays out the story, dialogue detonates and creates explosions that create twists, surprises, turns, and consequences that affect the rest of the story and keep it interesting. This is the essence of narrative drama.
  So how do you develop a skill for good dialogue? Let's look at The Purpose of Dialogue.
The Purpose of Dialogue
Jack Hart writes in Storycraft: "Dialogue isn't an end in itself; it has to do some real work. It can advance action as characters encounter and struggle with obstacles, such as an antagonist who resists a character's progress in resolving a complication. It can help shape a scene as characters comment on objects in their environment, such as the clothes one of them wears." Advancing action, imparting information, revealing character, increasing conflict—all of these are the purpose of dialogue and its every word should serve one or more of these at all times.
  According to screenwriter John Howard Lawson, speaking "comes from energy and not inertia." It serves "as it does in life, to broaden the scope of action; it organizes and extends what people do. It also intensifies the action. The emotion which people feel in a situation grows out of their sense of scope and meaning." James Scott Bell writes in How to Write Dazzling Dialogue: "Characters talk in fiction because they want to further their own ends…Every word, every phrase that comes out of a character's mouth is uttered because the character hopes it will further a purpose." Because dialogue can foreshadow action, explain it, or set it up, advancing action is a core role of dialogue. Also, dialogue exchanges are laden with conflict and can thus up the tension and stakes of action and confrontations, thus advancing action and leading from one action to another. The very act of dialoguing is, in effect, taking an action: to confront, to question, to ask, to discuss, etc. and in all cases, this dialogical action furthers plot, story, and character in some way (or should).
  Because, in many ways, we reveal who we are by how we speak, what dialogue does best is reveal or advance character. In the next section we will cover dialect and diction, but it's not just the word choice that is at work here but the interaction with other characters and the world reveals much, too. Word choice can reveal education level, social stratus, historical background, genetics, nationality, etc. but dialogue with others reveals attitudes about society, setting, the world, and relationships which are also important. We talk to different people differently for various reasons, and that very act reveals much about who we are and who they are to us.
  Because much dialogue involves opposition between characters, inherent in its nature is conflict. Stephen King writes in On Writing: "It's dialogue that gives your cast their voices and is crucial in defining their characters—only what people do tells us more about what they're like, and talk is sneaky: what people say often conveys their character to others in ways of which they—the speakers—are completely unaware." Dialogue is intimately connected to character motivation. It reveals motive constantly, setting and revising their agenda. These agenda checks come in opposition with those of other characters, creating conflict and tension and leading to action, imparting information, upping the stakes. This is a key difference between conversation and dialogue. Dialogue is always about tension and conflict, whereas conversation is not. Conversation can be casual and consumed with minute details, facts, and experiences which interest the involved parties but are irrelevant to those around them. Dialogue must always function to advance the story by revealing motives, information, character, action and more, so dialogue and conversation are very different in both purpose and style. In dialogue, characters sometimes say things to inform readers of information they already know in order to advance the story. This exposition is a manufactured trait of narrative dialogue that is not common in real life except with strangers. There are things many times we don't have to say because we are the party we are speaking to just know them, but with readers watching, in narrative, these things cannot go unsaid and must be imparted.
  Dialogue can also be external and internal. At the same time as characters engage in dialogue with other characters, they maintain an internal dialogue with themselves that can be in conflict with the external dialogue but performs the same functions. It can impart backstory, history, and details readers need to know and also things characters may not share, for various reasons, with other characters but which they know and hold in reserve but which readers need to further the story, action, and character. These two streams of dialogue go on simultaneously and intertwine with the narrator's voice as the story unfolds.
 Here's an example from romance author Catherine Bybee's Wife by Wednesday:
"Kissing me is wrong?"

"Yes," she blurted out. "I mean, no."

He chuckled, "Which is it?"

"Ugh. What if I choke? What if I don't look convincing?" What if she screwed up and gave the camera exactly what they wanted and Blake lost his inheritance?

Blake removed one hand from the steering wheel and placed it over her cold ones. "Samantha?"

"Yes?"

"Relax. Let me take charge here."

She wanted to trust him. But her hands shook as they  pulled into her driveway. He removed the key from the ignition and shifted in his seat. "Let's just go      inside and start packing."

"Are you going to kiss me the minute we're inside?"   God, she had to know…so she could prepare herself.
Okay, clearly Blake and Samantha are lovers. And they are going somewhere important with potential consequences for Blake that Samantha is worried she'll screw up. Notice also how Samantha's internal and external monologue are both at play here to impart understanding of motives and thought behind her reactions and words? Also note how while she is tense, anxious, Blake's body language and words combine to demonstrate he is not. He is relaxed, at ease. This is a very solid demonstration of effective dialogue.
   The next is example from The Cold Dish by Craig Johnson:
"What are you smiling at?"

"Leave me alone. I'm having a moment of grace."

He stared at me. "Well, we would not want to interrupt that."

I tossed a piece of shale at him, missing by a good   two feet. "If you can have multiple lives, I can have moments of grace."

He grunted. "How was your moment of grace last night?"

"Not bad, as moments of grace go." I thought for a    while. "More like a moment of truth."

He nodded. "That is good. They are harder to come by." He winced as he stretched the tendons in his right 
knee; maybe he wasn't indestructible. "So, she left 
the Jeep?"

"Yep."

"You drive her home?"

"Yep."

He stretched for a minute more, leaned against the 
mile-marker post I was leaning against, and sighed. 
"Okay…"

"Okay, what?"

"We do not have to talk about it."

"We are talking about it."

"No, I am talking about it, and all you are doing is 
saying, 'Yep.'"
Even without a lot of context, hopefully you can tell these are characters who know each other well. In this case, Sheriff Walt Longmire and Henry Standing Bear are childhood friends, now adults. Henry is an American Indian, Walt white. The sarcasm inherent here shows familiarity, as does the inside reference to "multiple lives." Characters with a history spar as they talk frequently. There is a playfulness and tension to it as they test each other, sometimes in fun, sometimes in anger, but always in shared knowledge. Just four lines of dialogue and two of description, but you see what that can reveal, even out of context. Walt, it appears, had a date or something the night before. Also, notice that Henry uses no contractions in his syntax. He has a unique way of talking that distinguishes him from Walt.
  Dialogue's purpose is to reveal character, plot, and story. It drips with conflict and drama, moving the story forward, upping the tension, and pushing the story along. Just by tone, phrasing, and wording, it can raise questions and evoke emotions in the reader. That is the importance of getting it right.
  Next week, we'll talk about some other aspects of dialogue.