Here are links to buy my works. You can also get them from Amazon or order them through fine retailers near you.
My debut novel, THE WORKER PRINCE, Book 1 in the  Saga Of Davi Rhii is finally here! You can order it now and get an autographed copy directly from me as  soon as it's available. The first 500 will be numbered in addition to being signed. Obviously at this time I can't autograph Ebooks, but given the discount for them, I hope you can live with that.
 What if everything you thought you knew about  yourself  and the world turned out to be wrong?

 For Davi Rhii, Prince of the Boralian people, that  nightmare has become a reality. Freshly  graduated from  the prestigious Borali Military  Academy, now he's discovered he was secretly  adopted and born a worker. Ancient enemies of  the Boralians, enslaved now for generations, the  workers of Vertullis live lives harder than Davi had  ever imagined. To make matters worse, Davi's  discovered that the High Lord Councillor of the  Alliance, his uncle Xalivar, is responsible for years of abuse and suppression against the workers Davi now knows as his own people.

His quest to rediscover himself brings him into conflict with Xalivar and his friends and family, calling into question his cultural values and assumptions, and putting in jeopardy all he's worked for his whole life. Davi's never felt more confused and alone. Will he stand and watch the workers face continued mistreatment or turn his back on his loved ones and fight for what's right? Whatever he decides is sure to change his life forever.
326 pp · ISBN 978‐0‐9840209‐0‐4 ·Trade Paperback · $14.95 tpb $3.99 Ebook  · Publication: October 4, 2011
Trade paperback only
 EPUB or MOBI — please specify in notes on order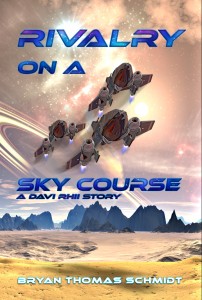 A prequel story to
The Worker Prince
 featuring characters from the book. This is the story of how Davi Rhii and Bordox became rivals at the Academy during the annual Sky Course starfighter race. 99 cents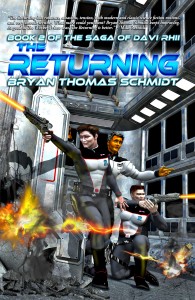 The sequel to 
The Worker Prince
, Book 2 in 
The Saga Of Davi Rhii
,
is described by Bestselling author Paul S. Kemp as: "a page-turning story that takes off like a rocket." Functional Nerds says: "Less straight forward…with more twists and turns…the drama and intrigue swell with each page. "
340 pp · ISBN 978‐0‐9840209‐4‐2 ·Trade Paperback · $14.99 tpb $7.99 Ebook  · Publication: June 14, 2012
Paperback, 1st Edition, 338 pages
Pub
 Trade paperback Special discount this month only! 
Ebook – MOBI/EPUB Special discount this month only! 
Davi Rhii Series Bundles – special
The Worker Prince-paperback/The Returning-paperback/Rivalry On A Sky Course ebook (no paperback available) $25.00 + s&h
The Worker Prince/The Returning/Rivalry On A Sky Course ebooks $13.00